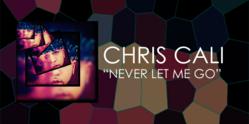 Chris Cali sings about love and drama between a relationship he had with another man.
los angeles, California (PRWEB) May 31, 2013
Music is always evolving in sound and culture. The subject and context of music over time has also shifted in many ways in the past recent years. Today bisexual and gay artists like Adam Lambert and Frank Ocean are among the faces that are mainstream openly singing about men as their lovers as a subject in their music. Chris Cali is an independent musician that also sings about men, who recently was featured on a creative blog for his music.
With this beginning trend in the mainstream industry, artists like Chris Cali are also taking the time and opportunity to showcase their talent by incorporating their personal lives and pasts into their music to gain supporters, which causes more awareness in leading more homosexuals along with bisexual musicians out of feeling pressured and hidden.
With a recently released pop single entitled "Never Let Me Go" Chris Cali sings about love and drama between a relationship he had with another man. The song is melodramatic, up-tempo, major, and also somewhat depressing because it was written regarding love being lost. Having the fear of someone leaving in a relationship; yes, it have been done many times before. However, not so often from men singing about men specially in R&B.
Chris Cali is an American Pop singer/songwriter/producer. Originally from Oakland, CA, his interest in music was evident from early childhood, when he began singing along to the likes of Michael Jackson, Madonna, Mariah Carey and Whitney Houston. His taste in music grew to include all genres, mainstream and indie, with a particular reverence for Hip Hop, R&B and Pop.
The "Never Let Me Go" music video produced for the song is somewhat explicit because not many male homosexual musicians have videos of the same-sex making loving to one another. It is sexual, controversial and emotional.
Frank Ocean is one of the few if not the only mainstream musicians that blew up in the past recent year or so that have openly written songs about men. For example "Day Away" and "Forrest Gump". Regardless of whether he is bisexual or homosexual, I admire his talent and gift in music."
Be sure to follow Chris Cali on Twitter and like his Facebook page to support the gay artist on the rise.
--
Eden Louis
Kenalsworld LLC
http://www.KENALSWORLD.COM
submission(at)kenalsworld(dot)com
561.351.9224
Kenalsworld LLC was founded by creative artist Pierre Kenal Louis. Some of the aspects of Kenalsworld is that it is a company that promotes artists, offer graphic design and photography services, feature art for sale by Louis along with unsigned and mainstream musicians as well a creative blog.