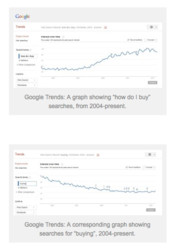 "Instead of ranking for a product, you might want to start thinking of ranking for a question!"
San Diego, ca (PRWEB) May 16, 2013
San Diego SEO firm, SEOhaus introduces it's latest research through their SEO Blog on Google Trends and how search patterns have changed over the years.
Google Trends is an interesting platform, it shows the most popular searches that were performed in that day. For instance, when this release was written, over 200,000 people had searched for 'Powerball' on May 15th.
It doesn't just offer insight into popular search topics that day. It collects this data over time and therefore allows marketeers, businesses and anyone really to analyze the data. Part of SEOhaus job is to continue to track trends and identify how this might affect it's clientele. It gives detailed analysis into what people are typing into Google and allowed this San Diego based SEO company to further identify just exactly how the world's interaction with the giant has changed and how it applies to future strategy.
Behind the publication is Richie Lauridsen, the group's Operations Manager. Richie spearheads new initiatives and looks at new ways to inject unique strategy into SEM.
One of the main changes noticed - Is how people are now reacting with Google in a more 'friend' based manner. Rather than searching - they are asking. A comparison chart shown in this image shows how people searching 'Where can I buy' has dramatically increased over people searching for the term 'buying'.
So what affect does this have on businesses? In the world of SEO, it certainly means that you have to make more time for keyword research. If you sell MacBook computers, you might want to start optimizing your website for 'Where can I buy a Macbook pro?' rather than just 'Buy Macbook Pro online'
To read the research and blog in full visit the SEOhaus Blog.
About SEOhaus:
http://www.seohaus.com is an Internet marketing company in California. With over 600 clients in their roster, from the small to corporate business, the company provides services to businesses all over the world. SEOhaus has been leading the way in ethical, intelligent and strategic online marketing campaigns for over a decade. You can contact SEOhaus at 1-800-605-8913 or info(at)seohaus(dot)com