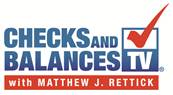 David Walker is a modern-day Paul Revere, devoted to warning the country about out-of-control government spending
Nashville, Tenn. (PRWEB) May 16, 2013
Hon. David M. Walker, former comptroller general of the United States and author of the book Comeback America: Turning the Country Around and Restoring Fiscal Responsibility, sat down in the Checks and Balances TV studios with Matt Rettick to discuss fiscal responsibility in the government and at home. Rettick, personal finance expert and founder of Checks and Balances TV, interviewed Walker for the "Thought Leader" series to be broadcasted in two parts on May 4rd and 11th on Checks and Balances Financial Radio (CBFR). The program airs Saturdays at 10:00 AM on News Radio 1510, WLAC in Nashville, Tenn. Rebroadcasts can be accessed at http://www.ChecksandBalancesFinancialRadio.com.
"David Walker is a modern-day Paul Revere, devoted to warning the country about out-of-control government spending," said Rettick. "His commitment to fiscal responsibility, as well as his understanding of the importance of smart decisions in every American's financial life, made him the perfect guest for the CBFR Thought Leader series."
David Walker is the founder and CEO of the Comeback America Initiative (CAI). In this capacity he leads CAI's efforts to promote fiscal responsibility and sustainability by engaging the public and assisting key policymakers on a non-partisan basis to help achieve solutions to America's federal, state and local fiscal imbalances. Prior to assuming his current position, he served as the first president and CEO of the Peter G. Peterson Foundation. Previously, Walker served as the seventh Comptroller General of the United States and head of the U.S. Government Accountability Office (GAO) for almost ten years (1998-2008). Walker has won numerous leadership awards both domestically and internationally. He has also authored three books, the latest one entitled Comeback America: Turning the Country Around and Restoring Fiscal Responsibility (2010), which is national best seller. He is a frequent writer and media commentator, and is a subject of the critically acclaimed documentary I.O.U.S.A.
Rettick, the visionary and host of Checks and Balances TV, is an accomplished author, recognized educator, sought-after speaker and advocate for personal finance and "longevity planning" for retirement. He has been featured on several national television programs including NBC's Today, Fox & Friends, Fox Business and more. Rettick also co-authored the book Fiscal Fitness: 8 Steps to Wealth and Health from America's Leaders of Fitness and Finance with the late famed fitness guru Jack LaLanne. Fiscal Fitness is dedicated to teaching Americans how to gain and maintain control of their physical and financial well-being and improve their quality of life, both now and as they age. His second book, All The Rules Have Changed: What You Must Do to Succeed in the New Financial Reality is due out Summer 2013. David Walker wrote the forward to the book.
ABOUT CHECKS AND BALANCES TV
Checks and Balances TV (CBTV) is America's #1 source for balanced financial advice. Through its weekly news program and interactive website, CBTV provides viewers and users free access to a variety of informative videos and podcasts, downloadable reports, tips, tools and techniques and more to help consumers achieve financial freedom and retirement success. Become a 21st Century Investor, prepare for a Debt Free Retirement and discover what is Financial Fact or Fiction on http://www.ChecksandBalances.TV. The show's host, Matt Rettick, the "Man with the Plan," gives you the truth you need to financially succeed Fridays at 4:00 p.m. EST. Log on, tune in, download from and interact with Checks and Balances TV, where financial truth and balanced advice finally meet.
The founding sponsor of Checks and Balances TV is American Equity Investment Life Insurance Company. To learn more about American Equity, visit http://www.American-Equity.com or call (877) 633-6417.