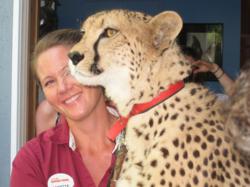 I really enjoy this event for not only the ability to raise money for CCF but to meet people and convey to them my passion for Africa and inspire them to go on a Safari Vacation as I did over 10 years ago. And look where it led me!
Studio City, CA (PRWEB) May 16, 2013
As a supporter of wildlife conservancy, Alan Feldstein of Infinite Safari Adventures has, for the past two years, hosted his "Meetah Cheetah" fundraising event at his home in Studio City, California. The event highlights the appearance of a live cheetah in the "wilds of Studio City". This year featured the attendance of Johari from the San Diego Safari Park and her dog companion, Yeti. Over 70 people attended this year's event which also included a silent auction, a raffle and the opportunity to purchase jewelry and crafts from Namibia.
The event provides not only the opportunity to see these majestic creatures up close, but also a chance to meet CCF founder Dr. Laurie Marker. Dr. Marker educated the crowd about the work the CCF is doing to save cheetahs - of which there are only 10,000 left in the world. Dr. Marker also invited the assembled group to come to Namibia on an African Vacation and volunteer at the CCF headquarters in Namibia.
"The event has grown so fast in 2 years that next year we are going to have to find a new location," said Feldstein. "I really enjoy this event for not only the ability to raise money for CCF but to meet people and convey to them my passion for Africa and inspire them to go on a Safari Vacation as I did over 10 years ago. And look where it led me!"