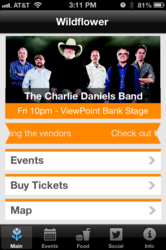 The launch of the app will give Wildflower! guests access to full schedules with links to the artists' pages, festival information, a social tab to Tweet, maps and geofencing photos.
Richardson, TX (PRWEB) May 17, 2013
Just in time for Wildflower! Richardson's Arts and Music Festival is City of Richardson's very own answer to the likes of Austin City Limits and South by Southwest! Introducing their first ever app for the festival designed pro bono by four students from The University of Texas at Dallas (UT Dallas). The free app (iOS and Android) will be available on iTunes (https://itunes.apple.com) and Google Play (https://play.google.com/) on Thursday, May 16, 2013, the day before the festival begins. Just go to either download site and search for Wildflower Festival.
The launch of the app will give Wildflower! guests access to full schedules with links to the artists' pages, festival information, a social tab to Tweet, maps and geofencing photos.
Justin Ehlert, a freshman from Midlothian, TX, was team leader of the app – the sixth he has designed – and joining him were two other freshmen, Alex Gwyn from Rockwall, TX, and Nelson LeDuc from Frisco, TX. This was also the first app for graduate student Naveen Tammineni of Tadpatri, India.
The four responded to an e-mail UT Dallas sent out about developing an app. "We all saw the opportunity and decided to apply," said Justin. "It's a good way to build our resumes and help out the City of Richardson. Our hopes are that we can build connections that will help us in the future."
The idea of potentially thousands of people using the app "feels incredible," he added. "We aren't really expecting tens of thousands, but seeing a thousand people interact with our creation will feel very rewarding."
"The best feature is definitely the social achievements. When someone visits certain locations at Wildflower!, they'll unlock special image overlays they can use to take photos," Justin explained. "Then they have the opportunity to post that photo on Twitter and share their experiences with others. Another design element we really love is the sliding banner on the home page. The banner shows images of the headline acts and lets users know when they'll be performing."
Justin noted, "We are definitely going to work with the City of Richardson to update the app for future Wildflower! Festivals. It's very important to us to keep a relationship with the City to ensure our work always stays polished. The City also has more app development opportunities that we're interested in pursuing."
"We have heard from the Wildflower! Festival audience that they want more ways to interact and find information, and this new app gives everybody a fun way to connect with the festival," said Richardson Parks and Recreation Director Michael Massey. "We were able to leverage the City's great relationship with UT Dallas to create the app, and we're excited to see festival guests using it this weekend."
The Charlie Daniels Band will headline at Wildflower! on Friday, May 17, with Gretchen Wilson opening. The award-winning, multi-day festival – featuring live music, arts and crafts, children's activities, interactive exhibits, acrobats, and more – will be held at Galatyn Park Urban Center, 2351 Performance Dr., Richardson, Texas 75082. Hours are 6 p.m. – midnight Friday, 11 a.m. – midnight Saturday, and 12:30 – 8 p.m. Sunday. New this year is the Alamo Drafthouse Cinema Movie Night on Saturday, May 18, at 9:15 p.m.
Tickets are on sale now at area Tom Thumb stores or through Wildflower!'s website: http://www.wildflowerfestival.com/tickets.html. A three-day pass is $30, single-day adult is $20 and kid's pass (age 5-12) is $3. On Sunday, May 19, kids 12 and under get in free with a paid adult courtesy of Bank of America. Sunday is also half-price day for adults – tickets are only $10 courtesy of Cisco Systems. Check the website for the festival's 15 for $15 group ticket promotion and for directions to the festival.
Other entertainment includes:
Friday – May 17, 2013
Cowboy Mouth – bits of gospel-punk with shards of Cowpunk
Gretchen Wilson – country music's "Redneck Woman"
The Charlie Daniels Band – country and Southern rock music legend
Spin Doctors – '90s alternative rock band
Uncle Kracker – pop/country crossover hitmaker
Rocket Man – the Best of Elton John tribute show
Eliza Gilkyson – Austin Music Hall of Fame inductee
Le Freak – The Greatest Disco Band In The World
Saturday – May 18, 2013
Toadies – home grown alt-rock heavyweights
The Reverend Horton Heat – country-fed punkabilly
Blue Oyster Cult – heavy metal/psychedelic rockers
Grand Funk Railroad – hard rock, blues band from the '70s
.38 Special – Southern country/blues rockers
Eleven Hundred Springs – Texas country rock band
Rocket Man – the Best of Elton John tribute show
Slaid Cleaves – iconic singer/songwriter
Sunday – May 19, 2013
Jolie Holliday – young and dynamic country musician from Richardson
Robert Earl Keen – Texas singer/songwriter
Ray Wylie Hubbard – elder statesman of the Texas music scene
Terri Hendrix with Lloyd Maines – accomplished Americana singer/songwriter duo
Rocket Man – the Best of Elton John tribute show
Wildflower! Richardson's Arts & Music Festival began in 1993 as a small community event held in a local park in northeast Richardson, Texas, to celebrate the acres of wildflowers planted around the city. Twenty-one years later the festival has become the premier music event in the region with more than 1,200 volunteers and attendance surpassing 60,000 a year. The festival is produced by the City of Richardson annually the third weekend in May.
This year's sponsors are ViewPoint Bank, Methodist Richardson Medical Center, metroPCS, Coca-Cola, Budweiser, Blue Cross/Blue Shield of Texas, Sherwin-Williams, Fossil, Credit Union of Texas, Atmos Energy, Argo Data, Reliable Chevrolet and Tom Thumb. Media sponsors include: The Dallas Morning News, Collin County Business Press, Jack FM, Star Community Papers, Richardson Living Magazine and The Dallas Observer.
For more information, go to:
Web: http://www.wildflowerfestival.com/
Facebook: http://www.facebook.com/wildflowerfestival
Twitter: http://www.twitter.com/WildflowerFest
YouTube: http://www.youtube.com/playlist?list=PL55C1EC2A1E2B7AE4
Mobile: text WFF to 88500
MEDIA CONTACTS
Jo Trizila TrizCom Inc.
Office: 972-247-1369
Mobile: 214-232-0078
jo(at)TrizCom(dot)com
ON SITE MEDIA CONTACT:
Greg Sowell
Director of Communications
City of Richardson, TX
Mobile: 972-897-2762
E-mail: greg.sowell(at)cor(dot)gov