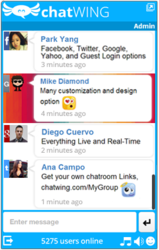 New York, NY (PRWEB) May 16, 2013
Chatwing Development Company has launched its latest chat software tool in the Wordpress community. Apart from that, the developers have reached out to Wordpress bloggers and discussed several important niches that are covered by the Chatwing chat tool. The latest features included in the new Chatwing chatbox are advanced social media setup, professional chat networks, customization choices, and admin parameters.

Online Business and Finance Niche – The Chatwing chatbox can be used best in these niches because they are constantly growing, based on many studies. Wordpress business bloggers tend to discuss the latest trends in finance and users are always seeking for tips every now and then. Chatwing's social media integration can help users from these niches in terms of website visibility.
Political Niche – Chatwing's developers have lately noticed that political blogging is getting common, especially in various locations across the world. With Chatwing's rate of connectivity, political bloggers can learn more information and their blogs can grow rapidly within days or weeks of Chatwing usage.
Health and Fitness – The health movement is also prominent now more than ever, according to Chatwing's developers. After reaching out to these niches, Chatwing's developers noticed that many health bloggers started using the chatroom for gathering online information. Aside from that, the bloggers are also sharing innovative tips for reaching optimum health standards.
Chatwing's development team is always reviewing the feedbacks of their users and clients. With these feedbacks, the developers can map out certain strategies that will lead to the creation of more useful features in the long run.
About Chatwing.com
Chatwing.com specializes in the new field of website chat. Over years, the Chatwing team has introduced live chat widget for hundreds and thousands of blogs. The Chatwing application bridges people from many parts of the world, creating global synergy through the Internet. The shout box can be installed in just seconds, and it can be used for varying purposes such as leisure and Internet marketing. It also allows a user to customize the size, color, and name of the widget.