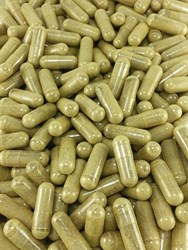 Specializing in Kratom!
San Diego, CA (PRWEB) May 24, 2013
Mitragyna speciosa is commonly called kratom, kratum, or krathom and is a tropical deciduous and evergreen tree in the coffee family (Rubiaceae) native to Southeast Asia in the Indonesia and Borneo regions.
The leaf of the tree has been traditionally used for its medicinal properties. Mitragyna speciosa is a psychoactive tree, and the leaves of the tree have been chewed to uplift mood as well as to treat a large number of health problems.
Kratom-k.com is a new website that offers the most extensive selection available online, carrying branded products such as Eden's Ethnos, Lucky, Captain, Mayan, Experience, P.e.p, Divinity, and O.P.M. They also stock 20 strains of our own organic high-quality product, so whether you are looking for specific brand, strain, or both, you can find it there.
Harvested from mature trees, they hand select only the finest Mitragyna speciosa to ensure their kratom has the highest mitragynine alkaloid content in the industry. Their products are available in capsules, raw powder, crushed leaf, extracts, tea, tinctures, soaps, and gum. All products are ground in house and stored in a clean, airtight, and ultra violet free environment to ensure that their customers receive only the freshest kratom available.
Specializing in plants from around the world, Kratom-k.com carries over 175 different varieties of ethnobotanicals, rare seeds, and exotic cacti. All of their kratom and botanical products are available in bulk to manufactures, stores, and universities. Please visit their bulk kratom page for more information.
Company Information:
Committed to providing you with the best customer service, they can be reached 7 days a week via email (service(at)kratom-k(dot)com) or phone (888-261-3443). They also provide same day shipping with a 100% satisfaction guarantee.