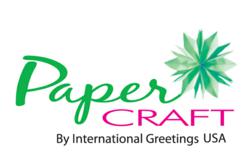 Proudly Made in USA
Midway, GA (PRWEB) May 16, 2013
Representatives from the international giftwrap, stationery and greeting card wholesale company, PaperCraft Products, have indicated that giftwrap, gift bags, greeting cards and other related high-volume retail paper product sales have finally risen in the last two years after a significant crash leading up to 2008, in spite of brick-and-mortar and online retail drop shipment volume increases.
According to both the U.S. Census Bureau and PaperCraft Products, mass-produced giftwrap, craft and other paper retail items grossed nearly $453 million over a decade ago in 2003, then dropped to a mere $127 million six years later in 2009 – less than one third of the former figure. "This decrease coincided with the rise of competitive online paper goods sales in the U.S.," said PaperCraft sales manager Anita Crane. As Internet awareness of paper goods via advertisement rose in those last ten years, so did drop shipment rates. According to Crane, "Drop shipment of gift products doesn't often require them to be wrapped. Customers have tended to trade decoration for savings by choosing drop shipment of gifts. But even though product drop shipment volume has increased significantly, we are seeing solid increase in giftwrap sales again."
PaperCraft sales director Warren Herscovitz describes the big picture, "Just two and a half years ago, worldwide giftwrap sales reached over $9.5 billion, up 4% from the year before. In 2011, it went up 10% – which is major." "We attribute this to increasing business-to-business sales of lower-priced wrap that feature new twists on traditional imagery," says Herscovitz. Instead of outsourcing some high-volume products, as do other competitors, PaperCraft simply bought in. "We built or purchased major plants in the Far East, as well as plants in Europe, which cut down on shipment costs too." In 2012, U.S. giftwrap sales reached $142 million and are expected to increase another 4% by the end of this year.
Founded in 2010, PaperCraft by International Greetings USA is amongst the largest stationery, giftwrap and greeting card designers, importers, manufacturers and distributors in the world with offices and operation bases in the U.S.A., United Kingdom, Europe, and China.
The PaperCraft team is available for both mainstream national and regional online, print, radio and television interviews. Images and information about PaperCraft are available on: http://www.papercraftproducts.com