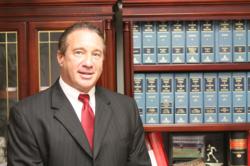 Our Team is Dedicated to Your Cause!
Irvine, CA (PRWEB) May 30, 2013
As a motorcycle accident attorney in Orange County, California, Joseph Tosti has dealt with a great deal of pain, loss and death more times than he would like to count."I've seen some of the worst cases that result in great tragedy here in the Southland, but it is just as bad around the U.S. – and the world, for that matter." May is Motorcycle Safety Awareness Month across the country, and Tosti is using it to help warn motorcyclists of road dangers to help save lives and end more suffering.
"Look, I'm more than just a motorcycle accident attorney in Orange County, so I see the big picture of what's going on here," explains Tosti. "Younger and younger riders are the ones who become inebriated and get careless when riding, more often than not. There is a culture of fast living that drives these unfortunate trends." According to Governors' Highway Safety Association report made in late April of 2013, which covers 2012 rider activity, motorcycle fatalities are up a whopping 9% from the previous year across the U.S. – from 4612 to 5027 (http://www.ghsa.org/html/publications/spotlight/motorcycle2012.html). Over the longer term, the Centers for Disease Control and Prevention, indicated that motorcycle fatalities more than doubled between the late 1990s and late 2008 – the highest between the ages of 20 to 24, followed by those in their later 20s. In the mid-2000s, motorcycle registration increased to a little over 50%, while fatalities doubled (http://www.cdc.gov/features/dsMotorcycleSafety/). "And it's gotten worse in the last few years, too. Sometimes it's an automobile driver's fault, but often it is the responsibility of the motorcycle rider," say Tosti. The GHSA report indicates that warm weather and gasoline prices – which have increased in recent years – increases chances of motorcycle riding and therefore fatalities.
"In California, fatalities have risen a few percent, but I have personally seen more near death accidents and cases than ever," warns Tosti. During this Motorcyle Safety Awareness Month, Tosti issues strong warnings and tips for motorcyclist everywhere.
1. Wear a DOT-approved helmet. Period. They are 37% effective at preventing fatalities.
2. Wear structured, sturdy riding gear and apparel – from head to toe.
3. Drive defensively – always!
4. Know when NOT to drive, such as in inclement weather or when tired.
5. Don't drink and drug – and drive. Not ever, not even when a "little" drunk.
6. Slow down NOW! Cut the speed. Freedom doesn't mean speeding away from traffic into your next collision. More than one third of all motorcycle riders were speeding just before their fatal accident.
7. Share the road. It isn't your alone, even if you think so.
Top personal injury lawyers Joseph M. Tosti and his legal team have collectively won over $60 million for his clients and have rendered swift justice in the process. With three locations in Orange County, the Tosti team has represented hundreds of diverse clients and cases.
The law offices of Joseph M. Tosti team is available for both mainstream national and regional online, print, radio and television interviews.