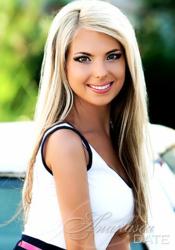 We are committed to providing the best service to our members, and harnessing the power of the latest technology to do it.
(PRWEB) May 21, 2013
AnastasiaDate, the popular international dating service, is connecting thousands of American men with beautiful women from all over the world. The Anastasia Dating mobile app, recently launched and available on Google Play is growing in popularity amongst members.
Anastasia dating is known for using the best technology available to provide high quality dating services for members. The mobile app is helping thousands of men to connect with charming ladies and find their own perfect match, wherever they are.
Thousands of members are downloading the Anastasia dating mobile app, free from Google Play. The app lets members meet and connect with beautiful women across the Atlantic. It is helping successful men with busy lives introduce themselves and get to know some of the world's most interesting and charming women. Technology is helping members find companionship and romance across the miles.
The convenience of being able to access their accounts and enjoy dating from their mobile phones or tablets is what is attracting members. The increase in downloads over the last few months is a clear indication of the popularity of the Anastasia dating mobile app.
Some of the features in the app include the ability to browse profiles, view photos and interviews, enjoy live chat and account management options including purchasing of credits, build contact lists, and receive VIP notifications. The Anastasia dating developers clearly thought of everything when created the mobile app. It provides members with everything they could need to maximise their online dating experience, wherever they are.
Chief Communications Officer Lawrence Cervantes spoke to us about the app, "Anastasia dating is regarding as one of the world's finest international dating services. We are committed to providing the best service to our members, and harnessing the power of the latest technology to do it. The mobile app is steadily growing in popularity because it offers members the full online dating experience in a mobile format."
Mr. Cervantes went on to tell us, "International dating involves time zones, which means we need to make sure the millions of American men who are looking for their perfect mate, can access their accounts and connect with women at a time that suits them. We are receiving feedback from members who report great delight at being able to log on and use the Anastasia dating mobile app whenever they need to. The app is being used by members while they are travelling, taking work breaks, and at all times during the day. This is exactly what it was designed for."
Anastasia dating is well known for using technology to help people connect and find love across oceans. They see technology as the driving force behind the successful international dating services they offer. The website alone is visited by hundreds of thousands of their 4 million members on a daily basis so the technology used has been created to be robust, reliable, and able and handle the constantly high demand.
For twenty years, AnastasiaDate has been regarded as an online dating innovator, successfully helping American men meet beautiful, interesting, and captivating ladies from across the world. We look forward to hearing what their next new technological innovation in the world of online dating will be.
About Anastasia Date
AnastasiaDate is a premium, international dating site helping singles to find romantic companions with beautiful women from all over the globe. The company now enjoy over 4 million international members. Their popular website attracts over 10 million visits per month. AnastasiaDate provide their members with a safe, secure and pleasant online environment for members to meet their romantic partners. The company are known for the high levels of customer service to their international clientele and their state of the art website and social media sites which include video chat and a popular mobile app for Google Play store.