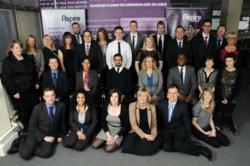 I can see why teaching in particular would appeal to the current market of job-seekers
(PRWEB UK) 16 May 2013
According to new research from job board totaljobs.com, two-thirds of job-seekers would rather get a job in the public sector as opposed to the private sector. Only 25% of job-seekers, given a choice, would work in the public sector.
Job-seekers stated their reasons for this preference were over career development in public-sector positions. Over half of these people stated that working in the public sector also gives them a chance to "give something back to society"
Mike Booker, director of public sector at totaljobs.com, said: "Positions in the public sector remain very appealing to job-seekers who see opportunities for career progression. With more public-sector cuts anticipated and high demand for the positions available, competition will be fierce."
Michalea Powell, the Managing Director of education recruitment agency, Aspire People said: "We have found that more and more people from the private sector are choosing to start up careers in education. We have people from law, business and engineering backgrounds who we helped get in to teaching.
Of course, they have to have a degree and a level of experience in schools before getting paid work through Aspire People. Many of our candidates build up their teaching experience through Aspire People, then we advise them on how to get in to teaching. After they have completed their initial teacher training course they then come back to Aspire People to do their NQT (newly qualified teacher) induction year. Schools and academies find that having candidates with skills from the private sector are a great addition to the classroom."
Mr. Cosgrove, now a fully qualified teacher, used to work for Aspire People after a successful career in business. He said "After getting some voluntary experience in schools I started as a cover supervisor for Aspire People. Just over a year down the line my recruitment consultant actively encouraged me to qualify as a teacher and advised me on which course to choose. After gaining my PGCE, I had no hesitation in working with Aspire People again as I knew there would be regular work and I would be treated professionally. Over the last three years I have been made to feel part of the team and have always felt supported through any difficult times I have had whilst working in education. After doing my NQT induction year with Aspire People, I am now a fully qualified teacher and hold a permanent job in a school in Birmingham."
Michaela Powell added: "Vincent is a great example to anyone looking to break in to teaching after a successful career in the private sector. When we ask people why they want to get in to teaching they always talk about giving something back to people and gaining satisfaction from their job. Combine this with the ability to learn new, exciting skills and the career progression within a school environment and I can see why teaching, in particular, would appeal to the current market of job-seekers"
Established in 2005, by Michaela Powell, Aspire People offers teaching, office and technical support staff to secondary, primary and special needs schools across the West and East Midlands. Aspire People are a reputable supply teaching agency. To enquire about jobs in schools and teaching jobs send your CV to jobs(at)aspirepeople(dot)co(dot)uk.