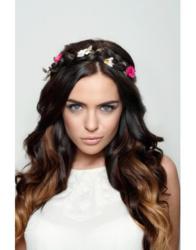 Dip dye, bright colours, braids and plaits will all be popular this looks for festival season 2013.
London (PRWEB UK) 20 May 2013
The UK festival season is due to kick off next weekend with Radio One's Big Weekend, marking the start of the Summer. Of course along with festival season, comes festival fashion, a big part of which is the all important festival hair. In preparation for this, Wonderland Wigs have revealed their predictions for this Summer's top 10 Festival Hairpieces and Wigs.
Wigs and hairpieces have become increasingly popular at festivals over the last few years say the award winning retailer, as they're an easy and affordable option to give girls the festie look instantly.
Festival hair this year is set to be colourful, with dip dye continuing to be popular, streaks of colour, and bold blocks are also predicted to be on trend. Along with classic plaits and festival braids.
Here is a summary of the Top 10 Festival Wigs and Hairpieces 2013 as predicted by Wonderland Wigs:
1. Chunky braided hairband adorned with festival style flowers
2. Dip dye ombre half wig
3. Clip in dip dye hair extensions
4. 'Chloe' - a baby pink bob wig
5. 'Annabelle' - a lilac and turquoise dip dyed wig
6. The triple braided festival hairband
7. The clip in fishtail plait by Wonderland Wigs
8. 'Perry' - a bright blue Katy Perry inspired wig
9. Hair chalk
10. Clip in ponytail hairpieces
For more information on these predictions, to view these products or for high res images please visit http://www.WonderlandWigs.com/en/ or contact Samantha McClements.