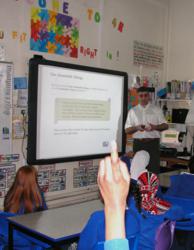 The children are very well informed about climate change and open to the concept of deriving free energy from the sun
(PRWEB UK) 18 May 2013
Simon Fowler, Technical Director for Pioneer's Signature Solar Division, is visiting schools in the Chelmsford area local to the company's operational base to explain to students about the benefits of generating solar energy and the benefits it can bring to homes and businesses.
Taking the view that energy efficiency must be ingrained into our young people Signature Solar began the series of presentations at local schools with a view to this being spread as the company's Signature Solar Dealer Network grows. Simon has completed around a dozen such presentations to Key Stage 2 & 3 students in the area, discussing the basic technology behind the production of electricity using photovoltaics and touching on the financial issues of generation, Feed In Tariffs and selling electricity back to the grid. Dealers in the Signature Solar Network will be encouraged to take the presentations forward in their own areas, thus spreading the word – and the brand – nationwide.
"The young people that I talk to are very receptive to the concept of Solar PV, energy efficiency and sustainability generally," said Simon. "They are very well informed about climate change and are therefore very open to the concept of deriving free energy from the sun. I am sure that most parents would be delighted if their offspring showed the same awareness when they leave lights on at home," he joked.
Ends
Issued by VAST PR on behalf of Pioneer Trading Ltd. For further information contact Paul Godwin on 0845 0945 775; email paul(at)vastpr(dot)co(dot)uk. May 2013.
Editors notes:
Pioneer manufactures windows, doors and conservatories to the trade on two sites in Chelmsford Essex.
Pioneer Trading began over 20 years ago and is one of Synseal's longest serving customers. Pioneer employees have extensive experience and are highly trained with constant reviews of training requirements. The company's main trading area is the South East of England. The organisation operates a Quality Management System that has gained BS EN ISO 9001: 2000 certification, including aspects specific to the fabrication and supply of PVC-U windows doors and conservatory roofs.
The company's Signature brand has been developed to provide an exclusive network through which new products, marketing, sales support and training are provided. Begun with the Signature Window, said to be the 'most efficient window in Europe', a range of new home improvement ideas and concepts will be launched continuously using the qualities associated with the Signature brand.