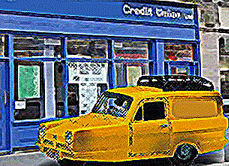 It's not often that you might see the Duchess of Cornwall rubbing shoulders with Del-Boy
London (PRWEB UK) 16 May 2013
"It's not often that you might see the Duchess of Cornwall rubbing shoulders with Del-Boy" commented a compareandsave spokeswoman, on hearing news that Camilla (Duchess of Cornwall) yesterday joined a Credit Union in Peckham, Southeast London.
The Duchess of Cornwall (as reported by the BBC) made her application (she's eligible as a Westminster resident) during her visit yesterday to the London Mutual Credit Union (LMCU), a non-profit organisation offering services to individuals who live or work within the London boroughs of Southwark, Lambeth, Westminster and Camden.
Some might find it surprising that Camilla would choose to support an organisation offering payday loans, but the LMCU is a payday loan lender with a difference. In 2012 LMCU became the first British credit union to offer payday loans, enabling their 16,000 members to access short term cash at rates considerably lower than commercial payday lenders would charge (28.6% APR rather than up to 4,000%).
Camilla said, "It is just raising awareness. Probably like many other people I didn't know much about it."
The compareandsave spokeswoman continued:
"It's great to the Duchess of Cornwall helping to raise awareness of UK Credit Unions.
Many people don't appreciate that there are real alternatives to high street institutions for current accounts, personal loans, savings accounts etc - the fact that the London Mutual Credit Union has added a payday style product too should be applauded.
Of course if they can lend at rates that are more akin to credit cards it does beg a question as to the interest rates that big brand payday companies are charging!"
_______________
compareandsave.com is one of the UK's leading personal finance comparison websites. Based in Colchester, Essex, compareandsave.com has been helping UK consumers get a better deal on credit cards, saving, loans and more for over five years.