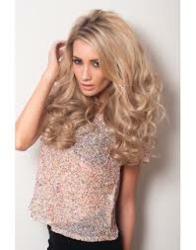 Full volume hair is a popular look for brides and wedding guests in 2013 and a 3/4 wig gives this look in an instant, making it 'the' must have wedding hairpiece of 2013
London (PRWEB UK) 23 May 2013
'Big Hair' is a popular look for 2013, with a-listers including Cheryl Cole and the TOWIE cast leading the trend. Now it seems that it is a popular bridal look too. Award winning hairpiece retailer, Wonderland Wigs have announced that the 3/4 wig has become 'the must have' wedding hairpiece for creating perfect bridal hair, and is also a big hit with wedding guests too.
A 3/4 wig (also known as an instant weave) simply grips to the wearers own hair, matching the hair colour of the wearer the hairpiece seamlessly blends with the natural hair. This gives the wearer a whole new look in just minutes, and in the case of wedding guests and brides is the perfect solution for adding volume and length. Because 3/4 wigs are worn part the way back on the wearers head, they look incredibly natural, which is a key consideration for brides.
Wonderland Wigs, a leading retailer of half wigs and 3/4 wig hairpieces have reported that they are receiving lots of enquiries and sales from brides and wedding guests who want perfect wedding hair and are keen to achieve it with a wedding hairpiece. They have seen an increase in demand of half wigs with the onset of wedding season, hailing the bridal hairpiece as a 'must have' for brides this year.
For more information on 3/4 wigs, how to wear them and bridal hair trends for 2013 please contact Samantha McClements or visit http://www.WonderlandWigs.com/en/. Wonderland Wigs stock a full range of half and 3/4 wigs, in all colours and styles with prices from £24.99-£189.99.