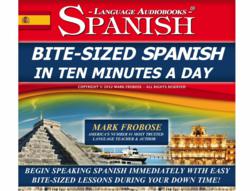 Never limit language learning to a single and expensive computer-based program!
Mark Frobose - President
LanguageAudiobooks.com
Champaign, IL (PRWEB) May 21, 2013
The summer season is in full bloom and so are the glitzy ads with the starry-eyed language learners who tell you how they became fluent overnight with a computer language program.
"Caveat Emptor," warns Mark Frobose, President of Language Audiobooks Inc.
"Buyers beware of too much good news coming from one or two expensive language program companies because you might be disappointed and pay a lot more money than you should," Mark advises.
According to Power Spanish author Mark Frobose, who himself has created more bestselling language programs than any one person in America today, the answer to the language program buying dilemma lies in following a few wise tips. Here they are:
1. Never believe any group that says they are the only way to learn a language. There are thousands of effective ways to learn languages.
2. Never limit language learning to a single and expensive computer-based program. Audio programs like those offered at http://www.languageaudiobooks.com are inexpensive and much more versatile than the computer-based equivalents.
3. Never purchase a language program that makes you guess at meanings while looking at four pictures on a computer screen. The optimal way to learn a language is with an English speaking instructor and native speaking assistants.
And just how much should a good language program cost?
"You should be able to purchase and excellent all-audio language program for under $100.00 and many times for under $50.00," says Mark Frobose, who also created Bite-Sized Spanish in Ten Minutes a Day.
"If you're paying more than that then I'm afraid you might be disappointed that you could have learned as much or more than from the expensive computer-based programs.
LanguageAudiobooks.com currently offers no-cost language lessons and a free ebook on their website located at http://www.languageaudiobooks.com.