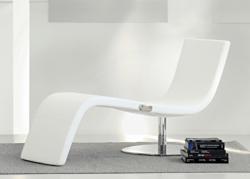 London (PRWEB UK) 17 May 2013
One of the most prolific designers of his generation and a firm favourite of leading London contemporary furniture retailer Go Modern, Karim Rashid will be taking centre stage at London's May Design Series this weekend (London Excel 19-21 May 2013) hosting a keynote session as well as taking to the decks to DJ a late night music session.
The Design Series is an annual event, bringing together fresh new interior's designs from some of the most forward thinking, design-led brands in the market today.
Go Modern has featured award-winning Rashid's designs almost since its inception back in 2006. With around 3,000 designs in production and over 300 awards, Karim is an industry legend, working with leading commercial manufacturers and well as various museum projects including the Centre Pomidou in Paris and the Museum of Modern Art in New York.
Rashid's design philosophy embraces the idea that we could be living in an entirely different world, one that is full of real contemporary inspiring objects, spaces, places and experiences. "Design is about the betterment of our lives poetically, aesthetically, experientially, sensorially and emotionally," he says.
Destined to become 'modern classics,' highlights from Rashid's designs for top Italian brands Tonelli and Bonaldo are featured on the Go Modern website, including:
Bonaldo's Dragonfly armchair. The funky armchair is designed to be converted into a chaise-longue in one simple movement.
The Kat glass coffee table. Guaranteed to be a talking piece, oozing futuristic class and style! Featuring one frosted, one smoked and one transparent panel.
Poly dining chair for Bonaldo. Winner of the Red Dot award in 2008. Objective quality and high production standards, for use indoors or out in injection-moulded polycarbonate (hence the name).
Unity round glass dining table. Designed for glass wizards Tonelli and made from shatterproof tempered safety glass with the top of the base bonded to the glass top.
For more Karim Rashid designs, please visit Go Modern.
Notes for editors
Based on the Kings Road, in the Chelsea Design Quarter, Go Modern was established in 2006. Their collection includes furniture and accessories from over 36 European designer/makers, leading names in the world of contemporary furniture design. The Go Modern team hand-pick each piece based on the philosophy that modern furniture should be as good to look at as it is to use.