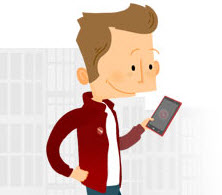 (PRWEB UK) 17 May 2013
Following the launch of its newest UK television advert at the beginning of May, Insurance2go is pleased to announce that it will be giving away £250 worth of vouchers to spend in Marks and Spencer, in the form of £25 for 10 lucky winners.
The 30-second advert highlights the fact that although modern phones are capable of many things, they still suffer from the fragility of everyday accidents. It also showcases the scope of what Insurance2go's low-cost mobile phone insurance actually cover. Their policies include cover against loss, theft and damage, as well as overseas cover.
Since its launch on May 1st the company's new advert has aired during the breaks of many popular shows across several popular television channels, including Have I Got News For You on Dave and Deal Or No Deal on Channel 4. It's also being broadcast on several prevalent digital channels such as ESPN Sports, Watch and Alibi; and has already attracted over a hundred views on the company's YouTube channel online.
The television advert also provides the debut of Insurance2go's newly revised mascot. Ivor Policy, who was officially named by Bristol woman Diane White in October last year, has been re-imagined as to appear more relatable to viewing audiences. The company's mascot has been given a detailed style makeover, with the addition of a quiff-like hairstyle, jeans and a red jacket.
The promotion of the advert has been aided by the announcement of a coinciding competition, which will run online alongside the advert until May 31st. Insurance2go is offering 10 lucky people the chance to win £25 worth of M&S vouchers.
Those who wish to enter should visit the insurance provider's competition page on their website, watch their new advert and answer the corresponding question. The company also ask that the users share the completion with their friends and follow Insurance2go's social media channels in order to enhance their chances of winning.
When asked about their new advert and coinciding competition, a spokesperson from the company had this to say: "We couldn't be happier to launch our new TV advert with our reimagined mascot Ivor. We're also incredibly delighted to be able to offer our customers this fantastic opportunity to get their hands on £25 vouchers to spend in M&S. Insurance2go offer some of the best prices for comprehensive mobile phone and gadget insurance cover in the UK; and we hope that this advert and the competition that's running parallel to it will help people to discover our brand and to understand that they too can receive low cost phone cover."
----ENDS----
About Insurance2go:
Insurance2go are a UK based specialist insurer. Having provided insurance policies for the past 6 years, they have established themselves as one of the leading smartphone and tablet insurers. They also provide policies for laptops, glasses and bicycles. Insurance2go is the trading name of Loyal Insurance who are authorised and regulated by the Financial Services Authority.