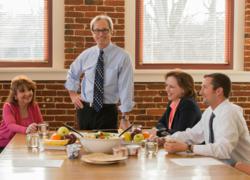 We have come to find what we initially had faith in -- that the wellness program would help make HUB a better place to work while controlling short- and long-term costs.
Lancaster, Pa. (PRWEB) May 16, 2013
The team of employees at full-service Lancaster, Pa., law firm Hartman Underhill & Brubaker, LLC (HUB) is seeing significant benefit from participation in a corporate wellness program under the direction of Lancaster General (LG) Health's Corporate Wellness division. HUB engaged the LG Health professionals to develop an employee wellness program in order to contain the rising costs of health insurance premiums and create a healthier workplace for its forty employees.
In its first year, the program resulted in measurable reductions in lifestyle-related risk factors among employees as well as an overall cultural shift toward increased wellness.
HUB committed to a three-year program that included health screenings, an online Health Risk Assessment (HRA), education on stress reduction, behavior modification classes for smoking cessation and weight management, and optional individual health coaching.
The goals of HUB's employee wellness program were twofold. HUB's managing partner Mark Stanley explains, "While we had control over most expenses in our annual budget, we found that every year we faced a large increase in our health insurance premiums, no matter what we did. We also hold a deep respect and appreciation for our staff and attorneys and are committed to supporting their well-being and providing a healthy work environment.
"We have come to find what we initially had faith in -- that the wellness program would help make HUB a better place to work while controlling short- and long-term costs," Stanley said.
Motivation among employees was initially driven by financial incentives. While participation was voluntary, employees who completed all program requirements would continue to have their health insurance premiums paid in full by the firm. Those who opted out would have to start contributing to their monthly premiums. This financial motivation resulted in 100 percent participation among partners, associates and staff.
"Any apprehension on the part of the staff was quickly replaced by enthusiasm once they realized that our program was not going to be about punishing unhealthy behavior," said Donna Reinford, the health educator at LG Health's Wellness Center who led the program. "The Wellness Committee at HUB promoted a spirit of togetherness and positivity that continues today," she added.
About Hartman Underhill & Brubaker
Hartman Underhill & Brubaker LLC (HUB) is a full-service, Lancaster, Pa.-based law firm offering comprehensive services throughout Central Pennsylvania in the areas of business, land use, school and municipal, and litigation. Its practice groups include Business Services; Financial Services; Employment, Pension, and Tax; Estate Planning, Succession Planning, and Elder Law; Real Estate, Zoning and Land Use; School and Municipal Law; Litigation; and Family Law. Established in 1978, HUB has steadily expanded in size, expertise, and depth of experience while enhancing its position as one of the most well-respected and well-positioned law firms in Central Pennsylvania. The firm has offices in Downtown Lancaster and Ephrata, Pa.
HUB's team of 19 attorneys includes partners Michael W. Babic, Thomas W. Bergen, Joshua D. Cohen, Robert M. Frankhouser, Jr., Kevin M. French, Alexander Henderson, III, William C. McCarty, Jeffrey P. Ouellet, Kim R. Smith, Mark Stanley (Managing Partner), and William J. Zee III; associates Joseph B. Allen, Brandon S. Harter, Kaitlin R. McGinnis, David M. Walker, and Luke T. Weber; and attorneys of counsel Marylou Barton, Mark L. James, and Christopher S. Underhill.
For more information, visit http://www.HUBlaw.com.
About Lancaster General Health
Lancaster General Health (LG Health) is a 631-licensed bed not-for-profit health system with a comprehensive network of care encompassing Lancaster General Hospital (LGH) and Women & Babies Hospital, including a Level III Neonatal Intensive Care Unit, and a network of outpatient centers and Lancaster General Health Physicians. Thrice designated a Magnet hospital for nursing excellence, LGH has been recognized regionally and nationally for its cardiovascular, intensive care and orthopedic services. Its Level II Trauma Center is the only trauma center in Lancaster County. Other entities include LG College of Nursing & Health Sciences, Lancaster Rehabilitation Hospital, VNA Community Care Services, and the LG Health Research Institute. In the summer of 2013, the new Ann B. Barshinger Cancer Institute will provide advanced technology and integration of cancer care under one roof. As a member of the Penn Cancer Network, LG Health has access to the vast research and technological resources of one of the nation's foremost cancer centers.
For more information, visit http://www.LancasterGeneralHealth.org.