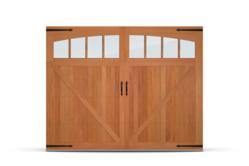 Arthur, IL (PRWEB) May 20, 2013
C.H.I. Overhead Doors is eager to announce the addition of Fijian Mahogany to the 5400/5700 wood overlay series of garage doors. The mahogany exterior creates a beautiful, consistent style that will enhance the look of homes, while offering structural integrity, high R-value and clean interior design.
The wide tongue-and-groove boards and smooth accent battens are laminated to the steel base sections with high performance adhesives. The garage door face is manufactured unfinished for field painting or staining.
C.H.I. Overhead Doors is a prominent manufacturer of high-quality Residential and Commercial Sectional and Rolling Steel doors. Started in 1981 in Illinois Amish Country in Arthur, C.H.I. has risen to become an industry leader in innovation and quality. A mix of hand-made craftsmanship and computer-aided precision join together to make C.H.I. Overhead Doors...The Door To Quality. Learn more at http://www.chiohd.com.