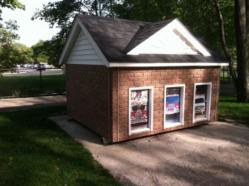 A perfect way to turn grief into good works
Deer Park, NY (PRWEB) May 21, 2013
In a perfect example of how to turn grief into good works, the Independence, Ohio, fire department recently dedicated a new Safety Town building in memory of beloved firefighter Edward D. Teare. The project featured a donation from FauxPanels.com to complete the replica.
"Barron Designs is a family company so we take community responsibility seriously. We were happy to help Independence, Ohio, create a fantastic tribute to Lt. Teare that will help countless children learn road safety," said Steve Barron, president of Barron Designs and its subsidiary, FauxPanels.com.
In 2010, Lt. Edward D. Teare, a member of the Independence, Ohio, fire department for more than 30 years, died of a heart attack during a training exercise. Since the Liberty Park playground near the fire station has a series of miniature buildings called "Safety Town" used to teach children road safety, the community decided that building and dedicating a miniature replica of the fire house would be a lovely tribute to Teare.
Fellow firefighter, paramedic and long-time friend Michael T. Grande designed and built the Safety Town firehouse with assistance from other members of the Independence Fire Department. The city donated money for some materials and FauxPanels.com donated Nailon brick veneer to complete it. The real firehouse has genuine brick, which wasn't feasible or practical for the Safety Town version.
Nailon faux brick siding installs as easily as vinyl siding, which was perfect for a project built in between real-life emergencies like putting out fires. Because it's made of extremely durable polypropylene it will easily withstand everything the weather and the elements throw at it as well as bumps and dings from bicycles and child-sized replica cars used to teach road safety.
Yet because Nailon faux brick siding is designed from molds of real brick, appearance and texture aren't sacrificed. It looks just like the red brick on the real firehouse it duplicates on a smaller scale.
The firehouse addition to Safety Town was formally dedicated on April 23, 2013. Lt. Teare's wife, Janet, his family, current and retired firefighters, friends and civic leaders all attended the heartfelt ceremony, led by Mayor Gregory P. Kurtz. The ceremony was followed by a reception. The Safety Town firehouse is a fitting tribute to a dedicated firefighter that will help generations of children live more safely.
"Certain projects just mean so much. Being able to help memorialize a courageous man like Lt. Teare is well worth our assistance," said Barron.
FauxPanels.com is an industry leader due to its outstanding customer service and the best selection of realistic faux brick, stone and wood panels and columns on the market. Its products have been regularly featured on television shows such as "Celebrity Apprentice" and numerous appearances on "Extreme Makeover: Home Edition." FauxPanels.com is a subsidiary of Barron Designs Inc., a family-owned design and home improvement business operating since 1972. For more information, visit FauxPanels.com.