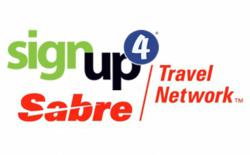 This integration will reduce time and motion for our travel agency partners while offering enhanced visibility to the end client
Atlanta, GA (PRWEB) May 17, 2013
SignUp4, the leading provider of strategic meetings management technology and Sabre Travel Network, a global technology company serving travel agencies, buyers and suppliers have unveiled a new Sabre Red App which integrates SignUp4's Event and Travel Management Systems directly into the Sabre Red Workspace environment. The SignUp4 Red App will be available to travel agents through the Sabre Red App Centre.
SignUp4 Travel gives the booking agent real-time access to live attendee registration data for events in SignUp4's Event Management System (EMS). As an attendee registers for the event on SignUp4, the agent is notified within the app and is able to then immediately create the PNR based upon the specific travel requirements noted by the traveler during registration. SignUp4 Travel will then merge the PNR info – air, hotel, transportation – from Sabre back into the attendee registration record within the SignUp4 database, providing unprecedented reporting access for the event planner and travel manager.
Creating fewer steps for the travel manager ensures reduced errors and significant time savings with increased travel compliance.
Matt Curry, SignUp4's Director of Business Development, said "At SignUp4 we are constantly looking for ways to simplify the day-to-day operations of our customers. This integration will reduce time and motion for our travel agency partners while offering enhanced visibility to the end client."
"The travel agency business is a highly competitive segment of the travel industry. To be successful, agencies must maximize efficiency and productivity while at the same time delivering excellent customer care and unique services," said Chris Kroeger, Senior Vice President for Sabre Travel Network. "SignUp4's Red App does just that for travel agents and their clients."
If you are a current SignUp4 and Sabre customer and are interested in learning more, please contact advocates(at)signup4(dot)com. You can also visit the Sabre Red App Centre.
About Sabre
Sabre Travel Network provides technology services to the travel industry. It operates the world's largest travel marketplace, connecting travel buyers and sellers through the Sabre global distribution system (GDS). Its innovative technology connects 350,000 travel agents to more than 400 airlines, 100,000 hotels, 25 car rental brands, 50 rail providers, 13 cruise lines and other global travel suppliers. More than $100 billion of travel is purchased through this marketplace annually.
About SignUp4
SignUp4 is the innovative meetings intelligence provider offering the highest quality strategic meetings management solutions with an affordable unlimited usage model. The goal of SignUp4′s meetings intelligence suite is to streamline workflows, simplify and drive registrations, efficiently manage travel logistics, improve communications, and provide visibility into meeting spend for leveraging contract negotiations and increasing ROI. With over a decade of experience, 3,500 users and over 80 of the Fortune 500, we understand the value of your time and events. Learn more at http://www.signup4.com follow us @SignUp4.