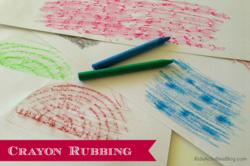 The finished crayon wax rubbing art can turn into a fun texture guessing game.
Dallas, TX (PRWEB) May 17, 2013
Classic crayon wax rubbing ideas together with melting crayon craft ideas have been published on Kids Activities Blog. Crayon art is simple to do, fun, and great for fine motor skills development and recognizing textures and colors.
Materials needed are plain paper and crayons. Let the child go around the room to explore and find surfaces with different textures. Surface ideas range from hard textured floors, tiles, cane baskets, cork, and coins. Simply lay the paper flat on the surface and rub the crayon gently on the paper. Moving the paper in different directions and changing colors will enhance the effect.
Outdoor surface ideas include brick walls, tree trunks, fences or leaves. The art creations can be turned into a special one of a kind gift wrap, or cut and glue different shapes from the wax rubbing art to create a collage.
Kids can also play a fun texture guessing game after the wax rubbing art has been completed. They can take turns matching the imprints on the paper to the surfaces.
Left over and broken crayons can be recycled into beautiful swirl crayon hearts. Separate the broken crayons by color and let the kids fill in a silicone heart shaped baking tray with their favorite color combinations. Bake the crayon filled tray according to the instructions provided on Kids Activities Blog and ready are the super cute crayon hearts that make perfect gifts for any occasion.
For detailed instructions and to get additional fun crayon ideas, check out Kids Activities Blog. Come get inspired to let the kids have fun with crayon art.
About Kids Activities Blog
Kids Activities Blog is a website created by two moms (who collectively have 9 children), Rachel Miller and Holly Homer from June Cleaver Nirvana. It is their daily goal to inspire parents and teachers to play with kids. This interactive website publishes simple things to do with kids twice a day. Kids Activities Blog is a great tool for moms and teachers to find kid-friendly activities that create memories and sneak learning into the fun.