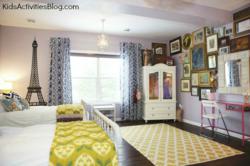 Spice up the girls room with Paris themed memorabilia and a cool triple bunk bed.
Dallas, Texas (PRWEB) May 20, 2013
An inexpensive kids room makeover idea to create a Paris themed shared room has been released on Kids Activities Blog. A unique triple bunk bed plan tops the list of ideas for families where space is at a premium. Both ideas are inexpensive and can be easily accomplished over the weekend.
Redesigning the girls bedrooms can start by browsing internet second hand furniture bargains such as Craigs List. Find great bargains on second hand beds and change the color to fit the child's taste. Add inexpensive Paris themed memorabilia by finding old art pieces, simple frames, and other eclectic Paris looking items, that will be closely grouped together at the wall inside the kids bedroom.
Old photographs and hand drawn art make great additions to the group of art. Blend in modern decorations with wood letters or industrial letters, and add an oversized Eiffel tower replica and ready is the cute Paris themed room.
If additional space is required, consider building a triple bunk bed. This idea sounds hard but it can be easily accomplished by using precut wood. Print out the triple bunk bed plans and take them to the local home improvement store to let them cut the wood pieces to the right size. Buy wood screws, ply wood, get stain, and rub-on-polyurethane. Tools to use or borrow are a table saw, a router, a drill, and a power hand sander.
Assemble the pieces according to the instructions provided on Kids Activities Blog and let the kids help with rearranging the room. Everyone will love the new floor space that the triple bunk bed creates in the once crowded room.
For detailed instructions and to get additional inexpensive room makeover tips, check out Kids Activities Blog this week. Come get inspired to spice up the kid's rooms this summer.
About Kids Activities Blog
Kids Activities Blog is a website created by two moms (who collectively have 9 children), Rachel Miller and Holly Homer from June Cleaver Nirvana. It is their daily goal to inspire parents and teachers to play with kids. This interactive website publishes simple things to do with kids twice a day. Kids Activities Blog is a great tool for moms and teachers to find kid-friendly activities that create memories and sneak learning into the fun.