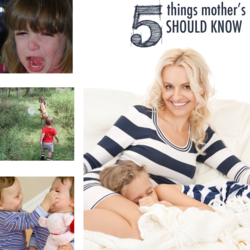 If someone just could have mentioned that to me earlier.
Dallas, Texas (PRWEB) May 22, 2013
Things mothers need to know but don't talk about have been published on Kids Activities Blog. The parenting tips include topics that even the best friends don't share about each others kids. The tips may even help to be more open next time when chatting with other Moms.
The tips that all mothers need to know include ways to teach a child how to truly enjoy. Help the child to take a step back from material goods and technology to find simple pleasures in life.
Other important tips include letting the children work it out themselves. Not breaking up every children's spat will instill in them a sense of conflict resolution and the ability to stand up for themselves.
Over 10 ways to stop tantrums as well as a laundry list of advice when selling a house with kids that will keep the household sane tops the list of advice.
Advice for first time Moms range from trusting ones instincts, to never skip showers, to not worry about the laundry and dishes, and ways to being able to ask for help when needed. The hands on tips include stocking up on batteries, getting a hair cut and coloring right before the baby is born, and being ready to take lots of pictures.
Other essential advice is to sleep when the baby sleeps, to relax, to be patient, and to not get out to buy the latest and greatest baby stuff. Simple time to hold, cuddle, and play with things found around the house are just as good and keep the budget in check.
For detailed instructions and to get additional tips for motherhood, check out Kids Activities Blog this week. Come get inspired to keep a safe and sane household.
About Kids Activities Blog
Kids Activities Blog is a website created by two moms (who collectively have 9 children), Rachel Miller and Holly Homer from June Cleaver Nirvana. It is their daily goal to inspire parents and teachers to play with kids. This interactive website publishes simple things to do with kids twice a day. Kids Activities Blog is a great tool for moms and teachers to find kid-friendly activities that create memories and sneak learning into the fun.