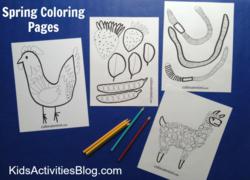 Color with anything but crayons and markers.
Dallas, TX (PRWEB) May 23, 2013
Ready to color with anything but markers? Unique spring coloring pages have been released on Kids Activities Blog. These spring coloring pages are great to color with anything but markers and crayons and perfect for a rainy spring afternoon at home or for school.
The cute coloring pages feature a rooster, a llama, spring fruits and vegetables, and last but not least, a set of worms. Coloring ideas include tracing the outlines with color glue, or filling in the spaces with flat colored marbles. Other ideas include gluing scraps of tissue, fabric, or even gluing items found in nature such as leaves, pebbles, and twigs.
Another set of spring themed coloring pages feature an elf napping next to a toad stool, three toad stools sitting happily in the spring breeze, and the word March decorated with daffodils and a dragonfly.
The simple lines of these coloring sheets do not limit kids to only use crayons or markers. The pages are perfect for watercolor paint, glitter and glue, and mosaic pieces of colorful construction paper.
To get additional coloring ideas and more fun coloring pages, check out Kids Activities Blog this week. Come, get inspired to let the kids be creative with cute spring coloring pages.
About Kids Activities Blog
Kids Activities Blog is a website created by two moms (who collectively have 9 children), Rachel Miller and Holly Homer from June Cleaver Nirvana. It is their daily goal to inspire parents and teachers to play with kids. This interactive website publishes simple things to do with kids twice a day. Kids Activities Blog is a great tool for moms and teachers to find kid-friendly activities that create memories and sneak learning into the fun.