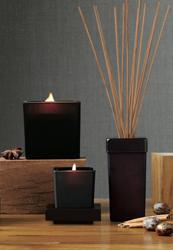 Give Dad a deep, dark handsome scent – not to wear, just to savor – in his den, his man cave, his office – even his car!
Plymouth, MA (PRWEB) May 21, 2013
For Father's Day this year, PartyLite suggests giving Dad a deep, dark handsome scent – not to wear, just to savor – in his den, his man cave, his office – even his car!
It's called Ebony Oud. Masculine and warm, Ebony Oud wraps his favorite spaces with woodsy notes and hints of spice. And PartyLite has such intriguing ways to deliver this (or dozens of other wonderful fragrances) for Father's Day:
PartyLite's Ebony Oud Square Wooden Wick Candle is a super masculine jar candle. Your Dad will love this wax-filled glass with sprayed color finish and wooden wick. It stands 3 ¾" high, 3" square and will fill his den with this deep, warming scent and a golden glow for between 20-35 hours, for only $20.
If you prefer flameless scent, consider the PartyLite Ebony Oud Diffuser Holder. This handsome glass bottle, with sprayed color finish and metal top, sits comfortably anywhere Dad likes to be. It is only 4 ½" high, 2 ½" square and costs $25. Reeds and fragrance oil, lasting 60-90 days, are $25.
For two of the most popular kinds of candles, there is also the PartyLite Ebony Oud Votive Holder. It works perfectly with either votive or tealight candles. The square glass votive cup sits in a simple wooden tray that's 2" high and 3" square: $15. PartyLite votive candles burn for 8-11 hours and cost only $14/dozen. PartyLite Universal Tealight® candles burn for 4-6 hours and are only $10/dozen.
Another way to provide flameless fragrance is via a ceramic scent warmer. The PartyLite Touchdown Scent Warmer is fun! Plug it into the nearest outlet, load it up with PartyLite Scent Plus® Melts, and Dad's little football exudes his new favorite fragrance – ebony oud. The PartyLite Touchdown Scent Warmer is 4½" high, 7½" wide and has a black cord in back – price is $35. It uses Scent Plus Melts, one of the most affordable ways to get strong fragrance that lasts and lasts. Two to four pieces yield 60-80 hours of scent, and a 9-piece tray is only $5.
What about Dad's car? How about the PartyLite Scent 4U Travel Diffuser with Refill? This compact, easy-to-use diffuser fills his car with the scent of Ebony Oud. It comes with two different clips, so he can easily clip it over the air vent or to the visor. It's small – only 2 ¾" in diameter, but the gorgeous fragrance lasts 45 days. The Scent 4U Travel Diffuser includes a refill - all just $18.
Finally, there's a super-tech fragrance answer for Dad's office or work space. Check out PartyLite's Scent 4Me® USB Port Diffuser with Refill. How cool is this? Dad simply plugs it into a USB port on his laptop to diffuse the scent of Ebony Oud into his personal work space. The scent lasts 45 days, and the PartyLite Scent 4Me USB Port Diffuser includes a refill - all at just $20.
About PartyLite
PartyLite is the world's #1 party plan company selling candles, candle holders, flameless fragrance and wax warmers, as well as holiday and home décor, with nearly 55,000 independent PartyLite business owners in 18 different countries. PartyLite ranks # 31 in the Direct Selling News "Global 100 top revenue-generating direct selling companies." Based in Plymouth, Mass., PartyLite is a member of the Direct Selling Association. This year, PartyLite celebrates 40 years as the global leader in its category and 23 years as a member of the Blyth family of companies (NYSE:BTH). For more information, please visit: http://www.PartyLite.com.