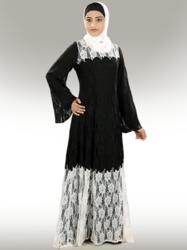 Any Size, Any Length; We customize For YOU
(PRWEB) May 17, 2013
MyBatua.com, the popular online shop for Islamic outfits, has launched its new arrival. The beautiful yet traditional dresses come in various styles. This new arrival is featured on their website and the dresses can be bought online... Not only this, the website has also come up with great offers like gifts, free shipping, and discounts for customers.
MyBatua.com is famous for selling latest and modest Islamic fashion clothing. MyBatua.com also specializes in supplying high quality special occasion clothes for ladies who want to cherish every occasion by looking ravishing while staying within their budgets. Made from high quality soft fabric, every dress in this collection is trendy and elegant. The company ensures its customers get the best out of the money they spend.
The company has launched a line of high quality Islamic wear. While the company has compelling Islamic traditional values behind the planning of the collection, all dresses were carefully designed to be chic, high-quality, functional, durable and stylishly colorful.
The Director, MyBatua.com says; "We are thrilled to announce the launch of our new collection. The website has been designed to enhance the opportunity for customers to shop online for Islamic clothes in a more time efficient and enjoyable way. MyBatua.com is also offering Free Standard Shipping on orders $200 and above For US, UK, Canada, Germany, France and many more countries. New customers will be offered a 5 % discount for registering with us. Not only this, our trusted customers will also enjoy 10% Discount on shopping of $150 & above. This will become a true online shopping experience for customers".
He added, "We stand behind every product and your satisfaction is unconditionally guaranteed all the time. So whether it is a wedding sherwanis you would like to order or an entire wardrobe of abayas, jilbabs, tunics and shawls you would like to add to your collection, an entire team of highly motivated and experienced service representatives is standing by to assist you with your shopping needs."
With MyBatua.com's customer friendly policies, the entire purchase process becomes quite simple and facilitating. The return policy removes any doubts in customers' minds and let them have a hassle free buying experience. Mybatua.com has a snag free standard industry return policy. For example, their return policy states, "You may exchange or return any regular item for refund of your purchase price (excluding shipping charges). Mybatua.com will replace the returned items or issue a refund for the cost of the goods to the credit/debit card used for online shopping. They are devoted to providing high–quality dresses without sacrificing the top-quality materials and fast delivery.
The portal consolidates many well-known Islamic products. The website has been built keeping in mind client's online shopping experience. Here consumers can compare and contrast items while buying them. MyBatua.com delivers an extended online product range and shows the company's commitment to offer diverse styles of Islamic clothing and trends, while keeping in mind the traditional aspects.
"The main objective and goal for our website, MyBatua.com, is placed on building an outstanding shopping experience that interested and potential customers will love and value. The website markets leading brand name products such as Abaya, Jilbab, Hijab, Tunics, Islamic abayas and Islamic wedding dresses. Just to name a few at bargain prices in the global market," said the Founder and CEO, MyBatua.com.
He also said, "MyBatua.com is proud to be able to serve people who find that their faith encourages them to dress modestly, without having to sacrifice style and beauty. Many of our customers are requesting maxi dresses and plus size dresses, so we were happy to listen and stock more of these this season. Be it any size, any length, we customize for you."
Much of the surge of consumer interest is due to the fact that these latest fashion products place equal emphasis on quality and style as they do with keeping up with the traditional roots.
The company's most popular products include Abaya, Jilbab, and Hijab, Tunics, Islamic skirts and Islamic wedding dresses. New styles include modern Abaya, latest Islamic collection, wholesale Islamic clothing, and trendy Islamic women clothing.
As cited by many loyal customers, there are many reasons to fall in love with this website. Some of the best reasons to shop at MyBatua.com include the availability of a wide range of modest Islamic clothing in both traditional as well as contemporary styles; Dazzling variety of colors, textures, fabric, embroidery patterns and designs; Islamic clothing in a full range of sizes for teens and adults; Customization, alteration and hemming services on most outfits performed in a timely fashion; Handmade footwear for every occasion; Cost-effective shipping on most items; Product launches, coupon codes, promotions and incentives all the time on their Facebook, Twitter, Google+ and Pinterest pages; Highly affordable prices that can't be beat; Easy ordering with only a couple of mouse clicks; and 100% secure online shopping.
About MyBatua.com
MyBatua.com is a leading international online store and boutique for Muslim fashions and fashion accessories including abayas, jilbabs, hijabs, tunics, tops, scarves, footwear, handbags, vintage bags, embroidered bags, metal framed bags, clutch bags, designer handbags and more at very affordable prices. Over the years, MyBatua has attracted a loyal Islamic customer base of people searching for Islamic clothing collections that can be hard to find in mainstream clothing stores. To buy Abaya, Jilbab, Muslim wedding dresses, Islamic wedding dresses online, and to avail regular discounts and offers, visit their website at http://www.mybatua.com.
MyBatua.com is an advanced e-commerce shopping portal that is built exclusively for consumers. It is an online shopping platform where customers can get Islamic clothing and accessories. This initiative has been developed in response to an increasing appetite of shopping online for convenience and better deals.
http://www.mybatua.com