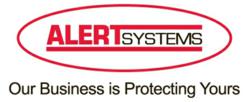 The woman was asked to leave but refused, pulling down a poster and throwing leaflets across the room.
(PRWEB UK) 17 May 2013
CCTV images have been released of a woman wanted in connection with an assault at a bank in Ashford, Kent - reports Kent News in 'Do you recognise this woman on CCTV?' published on May 14.
The newspaper reports that the incident happened around 2.30pm on April 29, when the woman entered the bank and after a short while became abusive, threatening staff and customers in the reception area.
Kent News reports that the woman was asked to leave but refused, pulling down a poster and throwing leaflets across the room. During the incident the woman also allegedly punched a 23 year old member of staff in the shoulder before leaving the scene.
As suppliers of business security systems, AlertSystems understand the importance of CCTV surveillance to protect both staff and customers as well as profit.
A spokesperson from AlertSystems said:
"Threatening attacks such as this can be very traumatising for both staff and customers. It is important to be able to capture images of the culprit in order to prevent them from doing it again. When attacks occur, such as the one on this staff member, CCTV evidence can be a vital factor in prosecution."
"As well as protecting from theft, a CCTV security system is also important in recording incidents of abuse against staff. This could be viewed live from a remote security personnel, allowing for quick action to be dispatched to the scene or could serve as evidence against the culprit after the incident. CCTV could also act as a deterrent against this kind of behaviour."
AlertSystems manage and maintain over 5000 security installations throughout the UK and are specialists in providing business security solutions. Offering professional service and a complete range of security services such as monitored alarm systems, Automatic Number Plate Recognition and Avigilon CCTV security systems. AlertSystems offers effective and reliable solutions to security problems.