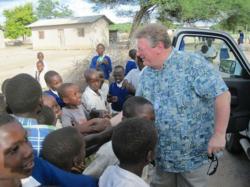 Jerry's legacy will live on in the gemstone industry, at Jewelry Television, and in our hearts for many years to come
KNOXVILLE, Tenn. (PRWEB) May 17, 2013
The late Gerald D. "Jerry" Sisk Jr., co-founder and executive vice president of Jewelry Television is recipient of the Lifetime Achievement Award presented by the International Colored Gemstone Association. The organization honored Sisk's work and dedication to the industry posthumously in Chansha, Hunan, China on May 16.
Sisk passed away peacefully in his sleep on Sunday morning, January 13, 2013 the age of 59. His death was unexpected. He is survived by his wife Karen, his mother, a sister and other relatives.
Jerry Sisk was a Graduate Gemologist (G.I.A.), a member of the International Colored Gemstone Association, and served as a Gemstone Industry & Laboratory Conference committee member. A frequent guest speaker, he was honored to be chosen as one of the five most powerful people in the world of gems and gemology on the JCK 2012 Power List. His book, Guide to Gems & Jewelry, has sold more than 15,000 copies and is in its second printing.
"We are grateful to ICA for honoring Jerry," said Bill Kouns, co-founder of JTV. "He was passionate about gemstones and loved the sense of adventure provided when traveling the world in search of the latest discoveries and best values to pass along to our customers."
Sisk devoted his career to finding the best-quality gemstones for JTV's customers, and he enjoyed sharing his knowledge of gemstones with others, especially on-air. He traveled to more than 40 countries worldwide, and developed a deep appreciation for other cultures, being well-versed in the challenges inherent in both gemstone mining and jewelry manufacturing.
ICA board member, Clement Sabbagh, accepted the award on Jerry's behalf after a video acceptance speech by Jerry's wife, Karen Sisk, and JTV co-founders Bob Hall and Bill Kouns.
"Every two years at the ICA Congress a tribute is presented to someone who significantly contributed to the growth of the gemstones industry during his or her life," said Clement Sabbagh, ICA board member. "Earlier this year our industry suffered a great loss of a man who, with his passion, accomplished our mission by bringing gemstones to a great number of homes in America through JTV. At this 15 ICA Congress, we are proud to present this tribute of a Lifetime Achievement Award to his wife, family and coworkers."
"Jerry's legacy will live on in the gemstone industry, at Jewelry Television, and in our hearts for many years to come," said Kouns.
About Jewelry Television®
Jewelry Television® (JTV) is the only interactive, multichannel shopping network that focuses exclusively on the sale of jewelry and gemstones. The privately-held company was founded in 1993 and broadcasts high definition programming 24 hours a day, seven days a week, to more than 80 million unique households in the U.S. Jewelry Television® was recently ranked the 13th largest retailer of jewelry in the U.S. by National Jeweler. JTV.com is the fifth largest jewelry destination on the internet according to Internet Retailer's Top 500 Guide for 2010.
About International Colored Gemstone Association (ICA)
The International Colored Gemstone Association (ICA), a non-profit organization, is the only worldwide body specifically created to benefit the global colored gemstone industry. ICA was founded in 1984 and is now comprised of over 600 gemstone dealers, cutters, miners and retailers from 47 countries who are devoted to advancing and promoting the knowledge and appreciation of colored gemstones.
# # #