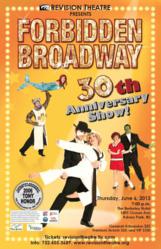 "Gleeful, Malicious and Hilarious…murderous good fun!"
Associated Press

"Gut-bustingly funny!"
New York Post

"Consistently riotous!"
NY Times

Asbury Park, NJ (PRWEB) May 18, 2013
Get ready for the irreverentacious hilariosity of this gut-bustingly-funniacious musilodical chuckelfest that is FORBIDDEN BROADWAY! Ok, most of those aren't real words, but there are no real words to describe the fun you'll have in Asbury Park on June 6, 2013 at the Berkeley Oceanfront Hotel.
Written and conceived by Gerard Alessandrini, this Tony award-winning musical has wowed audiences for over 30 years in New York City, the United States and some foreign lands where they don't lock people up for singing and dressing like Eva Peron.
Forbidden Broadway is packing the tour bus, hitting the road and stopping at this beautiful little city-by-the-sea for a one-night benefit concert to help ReVision Theatre continue their mission of providing quality, professional theatre in Asbury Park.
Called "The Saturday Night Live of Broadway" by The Today Show, this lightening-fast moving night of musical comedy parodies the best (and worst) musicals and performers that have graced the "Great White Way." The cast of Forbidden Broadway consists of past New York cast members, with many Broadway credits, who each play multiple roles and make dozens of extravagant costume changes.
This one night performance of Forbidden Broadway will take place on June 6, 2013 at 7:00PM in the luxurious Berkeley Oceanfront Hotel located at 1401 Ocean Avenue in Asbury Park, New Jersey. Tickets to Forbidden Broadway start at just $25.00 and can be purchased online by clicking here! VIP tickets are also available and feature prime seating, a pre-show cocktail reception, program acknowledgement and post-production cast meet-and-greet. More information can be found on the company website at http://www.revisiontheatre.org, by emailing info(at)revisiontheatre(dot)org or by calling the box office at (732) 455-3059. Program sponsorships and advertisements are also available prior to May 27, 2013.
ReVision Theatre is a professional regional theatre company dedicated to producing invigorating theatre with a fresh new perspective reaching the diverse community of Asbury Park, Monmouth County and beyond. ReVision Theatre produces reinventions of previously produced classics, overlooked or forgotten work in a new way, and new work with a fresh voice. ReVision Theatre now in its' 6th year, produces readings, workshops, cabarets, concerts, and main-stage productions.