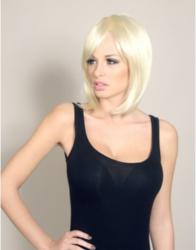 Survey reveals that people who are struggling financially and who have less free time are turning to hairpieces, extensions and wigs in order to make sure that their hair still looks great
London (PRWEB UK) 28 May 2013
With day to day life being so hectic, and with less spare cash available there are knock on effects which reach beyond the more commonly reported impacts of the current financial crisis. According to research carried out by award winning retailer Wonderland Wigs, girls are turning to hairpieces, extensions and wigs as a quick and affordable way of getting great hair - saving them time and money.
8 out of 10 girls that were surveyed (survey of 164 females, aged 18-35) by the company said that they 'Would wear a hairpiece, extensions or a wig' in order to get the latest hair fashion, for example full volume hair with a 3/4 wig, or pink hair with a good quality pink wig.
Among the main reasons stated in the survey for wanting to try this fashionable alternative were:

"They're more popular now, lots of celebrities wear them"
"I am so broke I can't afford to get my hair done all the time, but I can afford and instant weave"
"I have zero time to do my hair in the mornings, so popping a hairpiece in is the best option for me!"
Hair pieces are often very realistic now, with good quality synthetic hair perfectly mimicking human hair in terms of it look and texture. This means that hairpieces and wigs are more affordable and are also more accessible. They're also a good option for people who are having to tighten the purse strings thanks to the recession.
Not only are they affordable, but they enable the wearer to keep up to date following the latest hair trends and celebrity hair looks with minimal effort and no matter what the hair type.
For high res images, more information on the survey or other details of the results please contact Samantha McClements.
Wonderland Wigs stock a full range of celebrity and fashion inspired full and half wigs, extensions and hair pieces with prices ranging from £9.99 - £189.99.