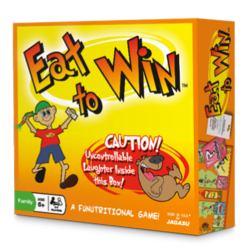 These are tools that teachers can use to 'drive' more physical activity and healthier eating habits.
Highland, MI (PRWEB) May 21, 2013
Eat to Win LLC, makers of FunNutritional games and products exhibited at the 2013 AAHPERD Conference in Charlotte, NC April 23-27. The acronym AAHPERD stands for American Alliance for Health, Physical Education, Recreation and Dance. Their vision is "Healthy People—Physically Educated and Physically Active."
Eat to Win was at AAHPERD to showcase the benefits their games and products have for children struggling with weight and all those other children who can just benefit from healthier eating habits and more physical activity.
"The response to Eat to Win was greater than at any other show we've attended," said Jammi (pronounced Jamie) Roscoe, Chief Executive Director of Fun for Eat to Win. "Everyone we met loved our products and thought they could use them in their current programs to fight childhood obesity."
One attendee, Sue Combs, Ph.D., University of NC Wilmington, remarked, "This is a very good thing for kids."
Susan Sellers, from Edmonds School District, said, "This is better than sliced bread."
That seemed to be the reaction from many of the Physical Education Teachers attending the convention. They lined up to buy Eat to Win games to use with their students. Representatives from regional AAHPERD conferences urged Eat to Win to exhibit and make presentations at their upcoming conferences.
"We are particularly excited about the response from these Physical Education Teachers to our Games and Personal Food Trackers for children," added Gary Gabel, Co-Founder of Eat to Win. "These are tools that teachers can use to 'drive' more physical activity and healthier eating habits."
Eat to Win games can play a big role in helping children learn which foods are good for them and which are not. Eat to Win games help children learn the importance of good nutrition and physical exercise in fun, dynamic ways.
For more information, please visit http://www.eattowingame.com
About Eat to Win:
Eat to Win was created by a concerned mom whose own child struggled with being overweight. Child obesity in America has become a major issue. An unhealthy lifestyle is a common problem among children and adults. Eat to Win was created to help encourage nutrition and exercise through fun and active games. Please share your stories with us on Facebook and Like Us to receive a discount! Our games are in agreement with ChooseMyPlate.gov.