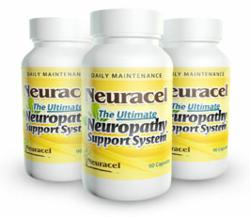 Boise, ID (PRWEB) May 16, 2013
A disorder of the nerves, Diabetic Peripheral Neuropathy is a disease that has an adverse affect on the health of millions of people worldwide. In fact, according to a study undergone by the World Health Organization (http://goo.gl/qUmED), the most common cause of peripheral neuropathy, Leprosy alone affects an estimated 1.17 million people worldwide. Additionally, what makes this disorder such a menace is the fact that it has various causes. Once contracted, the disease can be really hard to eliminate.
Furthermore, even if a treatment is found, the treatments involve the use of several medications and drugs which in itself is harmful. However, the experts at Neuracel believe that their product is set to change all of this with the Ultimate Neuropathy Support System promising an end to the use of unnatural ways for treating the disease.
Treatment at Home- Neuracel's Ultimate Neuropathy Support system
For people who suffer from Peripheral Neuropathy, seeking medical treatment can prove to be quite difficult states Neuracel. The harsh symptoms of the disorder can severely limit one's mobility and make the performance of even the simplest of tasks seem like a huge challenge. Therefore, there is a need to find an effective home remedy and this is exactly what Neuracel's latest creation has done.
The remedies launched by Neuracel stand out from the rest because of its natural approach. While several different products boast about their ability to restore nerve health, none of them do so in the way Neuracel's Ultimate Neuropathy Support System does. By fusing together a group of carefully researched herbs including California poppy, Lobelia, Passion flower, Corydalis, and Prickly ash bark, the product improves circulation and provides support to an overworked nervous system
About the Company:
The experts at Neuracel are determined to provide the most effective natural remedy for treating diabetic peripheral neuropathy. The product can be ordered directly from the official website at http://www.neuracel.com/specialoffer.php. For more information regarding special offers and discounts, visit http://www.neuracel.com/specialoffer.php#ic