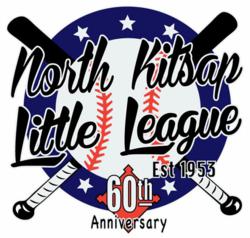 Poulsbo, WA (PRWEB) May 17, 2013
It all started back in 1953, when WWII Vet Art Michelsen worked with Little League Baseball to establish a charter here in Poulsbo. 60 years later, NKLL is thrilled to be sharing its place in Little League history along with the 60th anniversary of the first televised Little League World Series and the 60th anniversary of the first Little Leaguer to play in Major League Baseball. In those 60 years Snider Park and NKLL have given thousands of children the opportunity to learn the game of baseball (or softball), good sportsmanship, and to develop a confidence in themselves. In honor of these 60 years of service in North Kitsap, NKLL will be hosting a Diamond Jubilee celebration on Saturday, June 1st.
The morning and early afternoon will feature competitions amongst current players as an end to the players fundraising campaign. At 4:30 the Challengers division, along with their buddies from the Majors softball teams, will play a game on A field. Challengers games, which are played 2 or 3 times a season, are some of the most inspirational games of baseball to be played on any field.
After the Challengers game, an evening of food, fun, and music will ensue. Juanito's Taco Shop will be dishing up tacos, Hood Canal Nurseries has sponsored a DJ, and Central Market and Pepsi will be providing drinks. Activities are planned for the kids and the coaches will face off in a Hit-Run-Throw competition in the evening. Local merchants have donated items for raffle and winners will be drawn during the celebration.
Juanito's and NKLL will be making donations to Positive Fight Mode and Caring for Carmen to show their continued support for these two local youngsters battling cancer. NKLL has dedicated this season to Ian Gunnell and Carmen Garringer.
NKLL would love anyone with information on how to contact former players from the 1950's to send the information to info(at)nkll(dot)com.