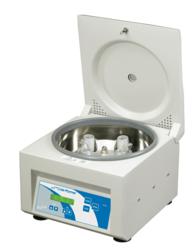 Vernon Hills, Ill. (PRWEB) May 16, 2013
A new selection of laboratory centrifuges, including benchtop and portable models, from Cole-Parmer is designed to meet the dynamic needs of lab professionals. The enhanced line includes:
The new Cole-Parmer® MS-3400 Centrifuges are clinical centrifuges that are true workhorses in the lab. They ensure a powerful and complete separation of samples—yielding superior serum and plasma specimen separation. Their standard four-place swinging buckets hold 50-mL tubes. With the additional rotor and adapter options, this centrifuge can address almost any tube size. Tube holders are vertical at rest, allowing the use of cover slips during fecal protocols. The digital keypad interface is glove-friendly for easy use and the motor is quiet running for a more pleasant work setting.
The new Cole-Parmer® FS-3500 Portable Centrifuges are an excellent choice for mobile professionals who need to spin samples on the go. Users can select from 6- or 8-place rotor options. A built-in level on the lid makes sure the centrifuge is level before it runs. The centrifuge comes standard with a 12 volt car adapter, but optional AC power adapters are available when standard electrical outlets are within reach. The stainless steel handle provides easy carrying from place to place.
A third option, the Cole-Parmer® VS-13000 Microcentrifuges, provides powerful, high-speed separation along with advanced safety features. Automatic rotor recognition restricts speed and a rotor detection feature shuts the units off to protect samples when the rotor is off balance. Microtube and microhematocrit rotors are available. The maintenance-free, brushless motor provides quiet operation even at 13,000 rpm. Variable speed allows users to set the desired parameter and adjust it during operation.
To view these and other lab centrifuges, go to ColeParmer.com/20093 or call 800-323-4340 for more information.
Cole-Parmer has been a leading global source of laboratory and industrial fluid handling products, instrumentation, equipment, and supplies since 1955. Our product lines, including popular brand names such as Masterflex®, Oakton®, and more, are sold through company-owned customer channel outlets and a strong network of international dealers. We also feature an ISO-17025-accredited metrology lab for instrument calibration and repair. Cole-Parmer responds with excellence to customer needs, and offers application expertise and technical support. For more information, contact Cole-Parmer, 625 East Bunker Court, Vernon Hills, IL 60061. In the US, call 800-323-4340. International customers, call 847-549-7600. Visit us at ColeParmer.com