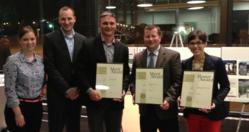 Proud of trifecta at PGASLA Awards Gala in Kansas City! The Cedar Creek Area Plan and North Oak Corridor won Merit Awards and Main Street received an Honor Award.
Kansas City, Missouri (PRWEB) May 17, 2013
2013 Award of Merit for Planning and Analysis for the Cedar Creek Area Plan. The City of Olathe selected a consultant team, led by Confluence, to prepare an area plan and overlay district for the 4,700-acre Cedar Creek Area. Confluence facilitated an interactive engagement process during which members of the community, the City, the development team, and other key stakeholders to refine the vision for future growth and development within the area. The planning study focused on future land use, regulatory considerations, architectural design standards, preservation of open space, transportation and infrastructure recommendations, and the use of sustainable best practices. The resulting plan defines an overlay district and the creation of a unique new zoning district specifically for use in the Cedar Creek area.
2013 Award of Merit for the North Oak Corridor Streetscape Master Plan
The City of Kansas City, Missouri selected a consultant team led by Confluence to prepare a community driven streetscape master plan for a 3.5-mile segment of the North Oak Corridor, a primary north/south commercial corridor in Kansas City's Northland area. Building on the City's prior adoption of a corridor and land use plan, Confluence engaged key corridor stakeholders in an interactive design process to identify current conditions, explore alternative design solutions and establish long-term goals for revitalizing this important corridor. Special consideration was given to multi-modal transportation, improved corridor aesthetics, and sustainable design practices. The resulting plan was adopted by Kansas City, Missouri's City Council in 2012.
2013 Award of Honor for Design (Built) for the Main Street Streetscape Design
After preparing a streetscape master plan for the Main Street Corridor, Confluence was hired by the Main Street Corridor Development Corporation (MainCor) to lead the final design and implementation, which has transformed the visual character in Kansas City's Midtown area.
The streetscape design focuses on prioritizing pedestrian circulation, building a stronger district identity for the Main Street corridor, and creating a unique and vibrant atmosphere that is attractive to new businesses and residents alike. Today, MainCor is experiencing increased interest from new businesses and a number of previously under-performing properties are being redeveloped.
***
Each year, the Prairie Gateway Chapter of the American Society of Landscape Architects honors the outstanding contributions to the practice of landscape architecture. Awards are given in the following categories Design (built), Design (unbuilt), Planning and Analysis, and Research and Communications.
These awards may be given for Excellence, Honor or Merit. The Excellence Award is the highest award given to one Honor Award recipient. The Honor Award is the highest award in each category. The Merit Award is an award of recognition of superior professional accomplishment.
***
Founded in 1998, Confluence is a professional consulting firm comprised of landscape architects and planners. The firm's work includes a wide range of public, educational, institutional, and private sector projects. Confluence has 18 licensed landscape architects and carries licenses in Iowa, Illinois, South Dakota, North Dakota, Nebraska, Missouri, Kansas, Wyoming, Wisconsin and Minnesota.