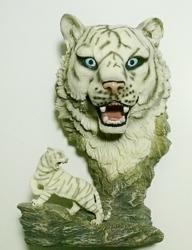 Customers find that figurines are ideal gifts, with the ability to personalize the gift to the personality of the recipient.
THORNTON, Colorado (PRWEB) May 17, 2013
OneShotVariety, online provider of affordable collectibles, recently added a "figurine and knick knack" category to its selection of unique products. The current selection of knick knacks and figurines includes a lifelike cat with real animal fur and ceramic figurines.
As Joseph Caltabiano points out, even though knick knacks are a popular item with collectors, very few sites feature them. By offering these items, OneShotVariety sets itself apart from the competition while offering items its loyal fan base demands.
Shaped like human and animal entities, figurines are a great addition to any home décor. As OneShotVariety is quickly learning, animals are the most sought-after figurine by collectors, although the site's Native American and clown figurines are popular, as well. Customers find that figurines are ideal gifts, with the ability to personalize the gift to the personality of the recipient. The "Old Man Golfing" figuring, for example, is an ideal gift for a household that includes a retired golfer. Elegantly crafted from painted wood, OneShotVariety says the golfer looks great on any shelf.
Figurines also fit well in an office, especially classy items like the small white tiger piece or the cast horse sculpture that has a faux bronze finish. These items would look great displayed on a shelf or desktop, certain to gain compliments from clients and co-workers alike.
OneShotVariety also finds the "Hear No Evil See No Evil Speak No Evil Monkeys" are a hit with households that have children. Setting a fun theme for a playroom or office environment. It will provide years of conversation for visitors, especially for collectors who specialize in monkey memorabilia.
OneShotVariety searches for rare items around the world to bring to customers at a discount. Each item is chosen for its "wow" factor, allowing OneShotVariety to display a collection of notable items customers are sure to talk about. Most of the products offered on the site are new, but those that aren't brand new are in almost-new condition.
Owner Joseph Caltabiano seeks a museum-like layout for his site, knowing collectors provide a simple, easy-to-navigate online shopping experience. In addition to figurines and knick knacks, OneShotVariety also sells rare products like a vintage Singer sewing machine, 1978 Elvis cards, shrunken heads, and taxidermy dioramas.
But unique items and collectibles aren't the only items available at OneShotVariety.com. The site also features child and baby products, including fun children's books and toys and rare classic dolls that display beautifully in any kid's room. The site also features rare shoes and accessories at affordable prices, including products from Dr. Martens, Perry Ellis, and Ann Taylor.
To check out the new line of knick knacks, visit http://oneshotvariety.com/knickknacks.html. Prices start at only $4.00, ensuring there's a collectible for every budget. The Knick Knacks page also features valuable decorating advice, including a video on how to decorate your home like a pro.