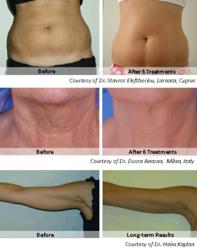 Las Vegas, NV (PRWEB) May 17, 2013
Lumiere Medical, a premier U.S. distributor of cutting-edge, clinically-validated technologies and Pollogen, a global leader in the medical aesthetics market, are set to showcase the Apollo powered by TriPollar with LumiCam —the world's most advanced radiofrequency (RF) technology system, providing skin tightening, cellulite reduction and body contouring with real time temperature feedback and thermal imaging of the treatment area — at THE Aesthetic Show at the Mirage in Las Vegas, NV.
Lumiere Medical and Pollogen will be located at booth #808 from Thursday, May 16th to Sunday, May 19th. There will be complimentary treatments and live patient demonstrations throughout the event, including the introduction of the LumiCam, FDA approved for thermal imaging of the skin. A special presentation by Dr. Danielle Brenza will also take place on Saturday, May 18th from 2:15pm – 3:15pm.
The Apollo powered by TriPollar is FDA-cleared for the non-invasive treatment of mild to moderate facial wrinkles. The 30-minute, no-downtime procedure has been globally embraced for its off-label use on the body with great success in treating cellulite and circumferential reduction. Unlike its competitors, the Apollo is completely pain-free, making it a game changer in the RF market. Moreover, TriPollar differs from other technologies because it allows patients of all skin types to achieve measurable anti-aging results—both immediately and long-term.
"TriPollar treatments have a truly attractive profile for non-surgical body contouring and anti-aging," says Dr. Danielle Brenza. "I have used nearly every other non-invasive technology available, and when it comes to the patient satisfaction, TriPollar is far superior. My patients are experiencing remarkable results from the very first treatment with absolutely no pain."
Patients benefit from both visible immediate and long-term results. The immediate effects include a smoother, tightened appearance and texture. Most clients realize the optimal outcome at the conclusion of the full treatment course—a recommended six to eight sessions—with a noticeable reduction in wrinkles and fine lines, body contouring and lifting of the treatment area, in addition to improved skin tone and texture.
The safety and efficacy of TriPollar treatments have been proven in multiple clinical studies and published in eight peer reviewed articles. A recent U.S. clinical study showed a 97% improvement following a full series of treatments, and 100% of the patients reported that they were satisfied with their results.
For more information, please visit http://www.pollogen.com/Tripollar-RF-Technology/Tripollar-RF-Technology.html or http://www.lumieremed.com.
About Pollogen
Pollogen Ltd. is a global leader in the medical aesthetic market providing innovative, safe and effective solutions that enhance and expand the practices of medical aesthetic professionals. The company offers products to address a range of skin treatments under the industry's three premier brands: TriPollar®, TriLipo® and TriFractional™. Pollogen offers a full line of clinically-proven, non-invasive anti-aging facial and body contouring treatment platforms for circumference reduction, cellulite reduction and skin tightening. The company's medical aesthetic devices, Maximus, Apollo, and Regen XL offer customers clinically-proven, safe and effective anti-aging lunchtime beauty treatments that deliver immediate and long-lasting results. With a distribution network in over 60 countries, Pollogen is providing innovative solutions to medical professionals globally.
About Lumiere Medical
Lumiere Medical, the premier U.S. distributor of innovative, science-based, clinically validated technologies, presents new revenue opportunities for its customers while providing results which consistently deliver high patient satisfaction. The exclusive U.S. distributor for Pollogen Ltd., Lumiere has recently added the Apollo TriPollar RF device to its distribution network, offering safe and effective anti-aging treatments with both immediate and long-lasting results.
###