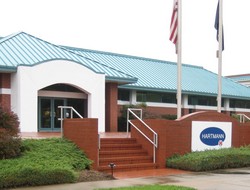 Rock Hill, SC (PRWEB) May 16, 2013
HARTMANN USA, Inc., the U.S. subsidiary of PAUL HARTMANN AG, today announced the pending expansion of its facilities in Rock Hill, South Carolina. The project will include an $18 million dollar investment to support the relocation of its U.S. incontinence management production located in Bloomington, Indiana as well as new machinery and equipment from its European operations. The expansion is expected to be complete in mid 2014 and will modernize and expand capacity to their manufacturing operations in the U.S., while adding nearly 75 jobs to the local economy.
Over 26 million adult Americans experience some form of incontinence, which can also lead to serious skin irritation and complications. HARTMANN is committed to addressing these issues head on by designing products that provide skin-friendly features without compromising product function. "The improvement to product features and design that this expansion will allow is extremely beneficial to the end user," said Oliver Krause-Huckleberry, HARTMANN USA's marketing director of incontinence management. "While addressing the overall issue of incontinence is important, through absorbency and other functional features, skin complications are extremely common in individuals living with incontinence. We feel it's important to address these complications through the products we manufacture and market."
HARTMANN originally entered the US incontinence market more than 25 years ago, distributing their skin-friendly MoliCare® products. The 2008 acquisition of Whitestone Corporation added the Dignity® brand into the HARTMANN portfolio. The investment will result in product improvements and new product introductions to the existing line of Dignity® incontinence management products.
"In addition to improving the design of incontinence management products, this investment will allow us to provide better service to our customers," said John Gilbert, HARTMANN USA's president and CEO. "Our expansion will allow us to house our distribution center, domestic incontinence management production and corporate office functions all under one roof, fostering seamless interaction between functional areas, enhanced customer logistics and increased competitiveness in the markets we serve. We are extremely excited for the opportunities this project provides and sharing the associated benefits with our customers."
HARTMANN USA will be providing information relative to product specific changes as the project progresses and will make formal announcements about new products closer to the grand opening of their newly expanded operations.
About HARTMANN USA, Inc.
HARTMANN USA, Inc. leverages nearly two centuries of expertise and global resources to design, develop and distribute quality compression management, wound management, incontinence management and other products that support healthcare professionals in their delivery of cost-efficient and clinically-effective care in the areas of: Acute Care, Long-Term Care, Primary Care, Home Care, Sports Medicine, School Health, Industrial Health and Safety, Retail Pharmacy and Veterinary Medicine. HARTMANN USA is committed to working in partnership with customers to enhance the care of patients and to provide solutions through education and information regarding the most appropriate products for the most challenging conditions. A strong reputation for superior customer service has resulted in long-term relationships with distributors and providers across the country and internationally. For more information, visit their Web site http://www.hartmanninfo.com.
About PAUL HARTMANN AG
PAUL HARTMANN AG is the parent company of the HARTMANN GROUP, which operates internationally in the field of medical and hygiene products. HARTMANN offers innovative solutions which consist of user-friendly products and customized services to enhance patient well-being and support healthcare professionals in providing cost-efficient and clinically-effective care. The core of the product portfolio under the HARTMANN brand consists of professional system solutions in the fields of wound management, incontinence management and risk prevention in the operating room. HARTMANN is headquartered in Heidenheim, Germany and employs over 10,000 worldwide. HARTMANN is represented by its subsidiary companies in 37 countries. For more information about PAUL HARTMANN AG, please visit their international Web site http://www.hartmann.info/en.