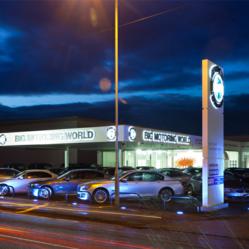 We want our customers to trust our service implicitly. The only way we can ensure this is by providing the very best customer service and aftercare we can.
Kent (PRWEB UK) 18 May 2013
The award-winning Kent used car dealer offers customers an extensive range of BMW models to choose from. Customers looking to invest in a used car from the German auto giants are sure to find a vehicle to match their needs and budget when they visit Big Motoring World.
Customer service is high on the agenda with this company and their revamped customer service programme is testament to this. Just recently, new customer support tools in the form of live chat and social media have been added to the company's customer care service. These improvements will help to ensure that every customer contacting Big Motoring World can do so quickly using a number of different contact methods.
"We want our customers to trust our service implicitly. The only way we can ensure this is by providing the very best customer service and aftercare we can. When customers drive their used BMW away we want them to know this isn't the end of the story.
Our customers can contact us about any aspect of the service they have received or the vehicle they have purchased and we will go that extra mile to help. Dealers in used cars have often received a bad name for pressuring customers and poor service. We want to dispel the myth that used car dealers are all the same by giving our customers 5 star customer service every step of the way." said a spokesperson from Big Motoring World.
The first customer service improvement has been the implementation of a live online chat module on the website. This will enable potential customers to chat in real time with Big Motoring World representatives and get instant answers to their queries.
This is a major improvement and will ensure customers receive timely and professional responses, helping them to make an informed purchasing decision.
Big Motoring World also has the world of social media marketing in its sights and has launched new Facebook and Twitter accounts. These platforms offer a great opportunity for the used car dealer to promote their brand and engage with their audience directly. As a result, customers can now contact the leading BMW dealer 7 days a week and receive advance notice of new deals, cars of the week and other promotions.
"We are really excited about the launch of our social media accounts. Interacting with our customers will help us to understand their needs and expectations and to meet them head on.
We are working closely with social media experts to ensure we get the best from our social media marketing and give our customers and potential customers the best service over these platforms.
Our live chat feature will also help us to engage with our customers in the most efficient and convenient way." a spokesperson said when asked about the new improvements.
Big Motoring World has been a leading name in the sale of used BMW, Audi, Mini, and VW cars for many years and these customer service improvements look set to elevate and maintain their reputation as one of the best BMW dealers in the UK today.
Customers can now contact the team at Big Motoring World 7 days a week and receive timely answers to any questions they may have whether they are looking to buy a used car or seeking after care assistance.
The Big Motoring World website features a huge range of used BMW models and in addition to the customer car improvements, also offers customers the convenience of free callback.
Buying a car is a major life decision and it will be reassuring for customers to know that they have many means of contacting Big Motoring World in the event of questions or concerns.
About Big Motoring World
Big Motoring World Group is the largest independent used BMW dealer in the UK, winning the prestigious Motor Trader Award of Independent Used Car Retailer of the Year in 2010. We are a used BMW specialist and pride ourselves on our fantastic range of Used BMWs we have for sale at extremely competitive prices.
We have over 550 Good Value used BMW's in stock, so whether you are looking for a used BMW 3 Series, used BMW 5 Series or a used BMW 1 Series, we can be sure to find you the right used BMW in London and Kent for you.
We are too big to miss, but so easy to find, just of the M20, M25, M26, M2, A20, A228, 25mins from Essex, 25mins from Local Kent Coast, 20mins from London, 15mins from Surrey and 15mins from Bluewater and the Dartford Crossing.