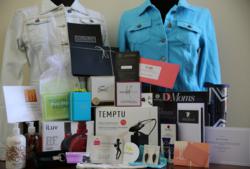 HAS Events is pleased to present this incredible experience gift bag featuring some of Dallas' top products and services along with top national brands.
DALLAS, TX (PRWEB) May 17, 2013
The Dallas Cowboys Women's Association will host an event, Fashion's First Down, at the home of Gerald & Kristin Sensabaugh on May 16, 2013. Event co-host, Candice Romo, will be joined by wives, significant others, Dallas Cowboys players and VIP guests during a special evening benefitting Nexus Recovery Center, a local Dallas-based non-profit. Nexus is at the forefront of specialized substance abuse services for females and offers programs for adult women and adolescent girls 13 to 17, including those pregnant or accompanied by children.
Guests will not be disappointed with the evenings event featuring a Jan Strimple produced fashion show showcasing the Fall collection of celebrity designer, Nha Khanh, cocktails and light bites and a luxury raffle. The $3,400 gift bag for each guest will deliver the biggest impact!
HAS Events, creator of VIP and celebrity gift bags for clients including Pat & Emmitt Smith Charities, Social Hill's Dancing with the Stars Gifting Suite, and Maverick Business Adventures created a special VIP gift bag for Fashion's First Down. The official tote provided by JCPenney and The Weekender Dallas will be filled with local and national brand products and services.
Beauty and grooming brand sponsors include:

TEMPTU providing each guest with their very own AIRbrush Makeup System 2.0 and AIRpod Blush in Sheer Berry;
Blushington, a make-up lounge gifting each guest with a complimentary full face make-up application;
Local blow out salon The Hair Bar provides a complimentary blow-out;
BeautyFoods™ featuring their Nightly Beauty™ Box, the first beauty drink created to give a delicious sleep and gorgeous skin;
JACK BLACK gifting their Save Face kit including their award winning Beard Lube™ and Double Duty Face Moisturizer;
Niven Morgan gifting each guest with the scent of vanilla and amber with hand lotion and soaps collections; and
Henri Bendel providing a signature Henri Bendel fragrance and a splurge card.
Local skin and beauty doctors:
Dr. Naila Malik will gift each guest with a complimentary microderm treatment;
Aesthetician Sherry Smith of Skin Technology gifting a variety of treatment options to enjoy including the $1,500 "Madonna" Lift; and
Celebrity plastic surgeon Dr. Adelglass of Skintastic will provide each guest with a complimentary session of Botox injections!
Fashion and accessory brands:
Tieks by Gavrieli, a luxury Italian leather split-sole ballet flat and one of The O List favorites rolled out the red carpet for guests gifting them a $100 gift card towards the purchase of their very own pair;
Lombardo Custom Apparel will provide each guest with a custom shirt worth $225;
Reuse Jeans a local brand to the Dallas market will gift their sustainable, eco-friendly jackets & vests in a variety of fashion forward colors;
Handbag and jewelry designer Bobby Schandra a $50 gift card towards the purchase of one of his one of a kind handbags;
Fashionable yet functional brand, Bagadocious will gift a dust cover for their sunglasses plus a certificate towards the purchase of a custom handbag, shoe or accessory cover;
Jewelry is always a hit and local designer Diamond Downs of Gehati created a custom Behati Stone Necklace for each guest; and
Celebrity favorite Kendra Scott provides a pair of sky-colored Tribal Arrowhead earrings, a blue goldstone with 14K gold plated over brass.
For the technology & fashion lover in all of us, iLuv ReF will gift their fashionable premium technology headphones in colors including red, black and blue.
Additional brand sponsors include:
Tervis providing each guest with a 24oz Dallas Cowboys insulated for hot or cold drinks tumbler;
UBER a $150 credit towards their private driver services;
Event beverage sponsor, Brown-Forman will provide a luxurious branded key chain;
Award winning Chef Shaun Collins from Main and Sides will gift a $50 gift certificate towards personal in-home or delivered meals;
Event media partner D Magazine will gift their latest edition of D Moms plus a complimentary 1 year subscription;
Papyrus a certificate towards a set of custom designed note cards; and
The Perot Museum of Nature & Science will provide two complimentary passes to experience and explore Dallas's newest treasure!
For more information on any of these products and services, to request media samples or a copy of the What's In the Bag Brand Product Guide please contact h(at)hasevents(dot)com.
ABOUT HAS EVENTS
HAS Events is a luxury experiential marketing and event firm focused on creating emotional connections and brand activation experiences. HAS Events specializes in event planning & management, marketing consulting and gift bag creation services.
ABOUT THE DALLAS COWBOYS WOMEN'S ASSOCIATION
The Dallas Cowboys Women's Association, an organization of players, coachers and executive wives and significant others, works on behalf of the team to make a difference in the North Texas community. Since 2008, the group has raised more than $500,000 for local non-profits, including the SPCA of Texas, Family Gateway, the Muscular Dystrophy Association and more.