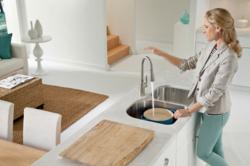 North Olmsted, Ohio (PRWEB) May 16, 2013
Each month, Popular Science magazine editors let readers in on their favorite products, featuring 12 top choices to make up the "Hottest Gadgets" list. In April, the thoughtfully designed Moen® kitchen faucets featuring MotionSense™ technology were recognized as part of this innovative group for 2013.
The publication recognized MotionSense faucets as the first kitchen faucets to utilize hands-free technology. MotionSense utilizes advanced sensors to detect movement in two sensing zones, setting water flow in motion without a single touch. With MotionSense, tasks like washing dishes, filling a glass of water and preparing the evening meal are simplified. It's like having a second set of hands in the kitchen – perfect for when your hands are too full or too dirty to turn on the faucet.
Learning how to use MotionSense is as simple as it is innovative. Faucets with MotionSense can be controlled in three unique ways:

The Wave Sensor at the top of the faucet starts and stops the water flow with a simple hand movement above the faucet.
The Ready Sensor near the base of the faucet identifies when an object – like a cup or your hand – is placed beneath the spout. It runs water for as long as that item remains in range and automatically shuts the flow off as soon as the object is removed from the sensing zone.
The handle on the side of the faucet offers manual operation, letting users adjust flow and temperature.
"After extensive consumer research, MotionSense was developed to offer a better solution to help consumers with the many – and often messy – tasks at the kitchen sink," said Tom Tylicki, senior wholesale kitchen product manager, Moen. "We are proud that Popular Science recognized these benefits, and hope that their endorsement will inspire more homeowners to make this product a part of their kitchen faucet experience."
MotionSense technology is featured on four Moen faucet styles: Arbor®, Brantford™, Hayfield™ and Delaney™ and are available in a variety of the most popular finishes.
To view the complete April 2013 Hottest Gadgets list, visit popsci.com.
For more information about MotionSense Technology from Moen, visit moen.com or call 1-800-BUY-MOEN.
###
About Moen
As the #1 faucet brand in North America, Moen offers a diverse selection of thoughtfully designed kitchen and bath faucets, showerheads, accessories, bath safety products and kitchen sinks for residential applications – each delivering the best possible combination of meaningful innovation, useful features, on-trend styling and lasting value. In addition, Moen® Commercial offers superior performing products that deliver lower lifetime costs for today's facilities.
Moen has worked diligently to support, promote and advance sustainability within the organization and the plumbing industry. The company has been recognized with the 2011 EPA WaterSense® Excellence Award, as well as the 2010 EPA WaterSense Manufacturer Partner of the Year Award, for its work to protect the future of our nation's water supply through the introduction and ongoing support of water-efficient products, programs and practices, while keeping consumers' needs top-of-mind.
Moen is part of Fortune Brands Home & Security, Inc. (NYSE: FBHS), which creates products and services that help fulfill the dreams of homeowners and help people feel more secure. The company is a leader in the home and security industries and features well-known and trusted brands like Moen® faucets, Master Lock® padlocks and security products, MasterBrand Cabinets®, Therma-Tru® entryway systems and Simonton Windows®. For more information, please visit http://www.fbhs.com.
WaterSense is a registered trademark of U.S. Environmental Protection Agency (EPA).
Contact:
Jennifer Allanson or Kristi Stolarski
Falls Communications
(216) 696-0229
jallanson(at)fallscommunications(dot)com
kstolarski(at)fallscommunications(dot)com