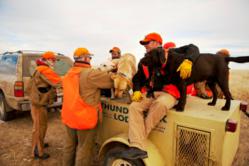 Thunderstik Lodge is the ideal venue to relax and spend quality time with customers or to create deeper relationships within your organization.
Chamberlain, South Dakota (PRWEB) May 21, 2013
Thunderstik Lodge is proud to announce a two-tiered Rewards Program for field managers in the oil and natural gas industry. The top producing teams in these companies have a chance to receive a Silver and Gold Level hunt, with winners enjoying the ultimate pheasant hunt at our Thunderstik Lodge or Rooster Ridge Lodge.
Both options include not only South Dakota's famous ring neck pheasants, but also Thunderstik Lodge's top shelf food, lodging and guide service, which spell out a great South Dakota pheasant hunting adventure. Moreover, as the lodges are located overlooking the majestic Missouri River, visitors may also have a chance to hit the river for fantastic walleye fishing.
In late April, Carey Story, Thunderstik & Rooster Ridge lodge manager, visited the Bakken Formation oil fields massive operation near Williston, ND. Carey was able to spend time with the Chamber of Commerce where he introduced the lodges as a quality pheasant operation to the south.
In 2011, Thunderstik Lodge had a new group from the oil industry enjoy a customized two-day hunt at Thunderstik. Sanjel Corporation based in Calgary, AB and offices in Williston and Denver hosted the trip and went home with not only everyone getting their limits, but enjoying the hospitality that Thunderstik is famous for.
Other companies Thunderstik Lodge have hosted: Anadarko Petroleum, The Woodland, Texas and Noble Energy out of Dallas. They have also been in communication with SM Energy Company and Kodiak Oil & Gas, both out of Denver and Petro Hunt LLC from Dallas.
When they roll out the barrel in North Dakota, Thunderstik Lodge rolls out the Red Carpet in South Dakota!
About Thunderstik Lodge: Since 1988, Thunderstik Lodge has been South Dakota's best pheasant hunting lodge, building friendships with hunters from around the world. Overlooking the beautiful Missouri River near Chamberlain, SD, the lodge and staff encapsulate America's best qualities and is the perfect setting to reward top producing teams at Oil and Natural Gas companies.