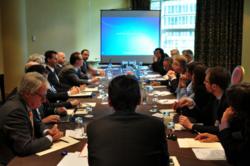 MDO will be at the forefront of these developments and has the means and experience to meet these increasing demands
Luxembourg (PRWEB) May 17, 2013
MDO, first incorporated in 2003 and presently the leading provider of substance solutions and Independent Directorships for Luxembourg investment structures, welcomed around 100 leading players in investment funds to the Sofitel.
Following a light lunch, guest speaker Janwillem C. Acket, Chief Economist at Julius Baer & Co. Ltd, in an introductory presentation, "The Macro-Economic Outlook for Europe", stated, "The World is ill, in part due to bad policy making. Yet in economic terms we (Europe) remain the richest regions in the World. Signals of an upturn can, however, be seen for example in Turkey, Indonesia, Malaysia and South Korea (TIMS)."
Over the last seven years this elite, invitation only event has been an essential date for many CEOs and MDs of the largest firms in Luxembourg's financial sector. This year was no different, with major actors from many service providers in attendance along with asset managers from across Europe.
This year's Roundtable prompted discussions about three main themes. The first of these was 'Substance requirements for Investment Funds in Luxembourg', followed by 'Corporate Governance for Investment Funds' and the final theme explored the outlook for Luxembourg as a consequence of these regulatory changes. "MDO will be at the forefront of these developments and has the means and the experience to meet these increasing demands," reported Carlo Montagna, Associate TDO (part of MDO Group, previously MD at BoNY Mellon).
"MDO is truly independent from any financial institution in that it is privately owned." reported Martin Vogel, CEO of MDO. "We have a strategic focus on providing substance and related activities for investment fund structures and a strong focus on corporate governance and risk oversight. In addition, MDO provides a dedicated account manager for each client thus, providing its clients a "one stop shop" for any Luxembourg related matters."
The subjects addressed at the Roundtable ranged from; "The challenges and opportunities presented by AIFMD", chaired by Paul de Quant (Associate TDO), (previously Director at Astraeus Capital Management), "Risk Management for Alternative Investment Funds," with Bernard Herman (Associate TDO and previously Head of Operations and Markets at Dexia Private Banking) as chairman and "What's coming up for Luxemburg's Fund Industry?" chaired by Yves Wagner (Board of Directors MDO).
"AIFMD would become an established brand, recognised in the market and provides an opportunity for Luxembourg and therefore us at MDO. Gaining the SuperManCo license is also a positive step forward. Bigger Funds choose us because they know we will be on time with all regulatory filings," noted Paul De Quant.
John Li (Board of Directors MDO and previous Chairman of KPMG Luxembourg) commented on the lack of women candidates to join Boards of Directors. "Clearly today boards are dominated in numbers by men. Having more women on Boards is undoubtedly very much welcome. However, setting quotas for women cannot be an objective in itself. An effective Board should be composed of a diverse group of professionals, women and men who are either very experienced in the relevant industry or in business in general. Cultural diversity is also important for those companies doing business on many continents. The real question that must be tackled today is why are there fewer women candidates today for Board members."
The discussion chaired by Richard Goddard (Associate TDO and previous Head of European Funds for ABN AMRO) about how non-executive directors can add value to managers and investors highlighted the importance of communication and transparency between employees, auditors and bosses. "Regulatory measures are changing, names are being named, and nobody wants a black mark on their financial record." He went on to say, "Independent Directors are often the most senior in terms of years and experience on the Board and the most risk averse. Having said that, they provide significant added value in that they have specialist judgment and intimate knowledge of fee levels and structures."