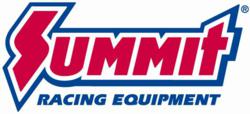 Tallmadge, OH (PRWEB) May 17, 2013
Now available at Summit Racing, the E-Street EFI System is designed to be an easy, virtually foolproof way to convert a V8 engine from carburetors to fuel injection. The secret is in the preinstalled software on the included touch screen Android tablet. It connects to the system's ECU via Bluetooth and lets you create, modify, and save unlimited tunes. The Dynamic Fuel Control self-mapping fuel curve makes it easy to correct and dial-in your tune—no tuning experience needed.
Other features include:

Fully assembled and pressure-tested throttle body with fuel injectors, fuel rails, linkage, and sensors
Progressive throttle linkage for great driveability
• Fully assembled, OEM-quality wiring harness with pre-terminated connectors

Wide band oxygen sensor with accurate monitoring in the 10-20 AFR range
Capable of controlling electric cooling fan and A/C relays
ECU with preinstalled tune lets you run the system out of the box
Automatically adjusts for future engine upgrades
APPLICATIONS: Most American V8 engines with carbureted intake manifold that has a Holley 4150-style carburetor flange. Fuel supply system not included.
PRODUCT LINK: http://www.summitracing.com/search/product-line/edelbrock-e-street-efi-systems?autoview=SKU&keyword=3600%20E%20Street%20EFI
Summit Racing Equipment
http://www.SummitRacing.com
1-800-230-3030