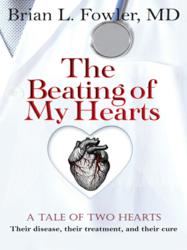 San Antonio (PRWEB) May 18, 2013
Often, medical professionals become hardened and cynical secondary to the demands and pace of a busy medical practice. In The Beating of My Hearts, Dr. Brian L. Fowler tells the story of his transition from doctor to patient and how it led him to a spiritual awakening.
Fowler was living a perfectly normal life until he was diagnosed with a rare inflammatory disease called cardiac sarcoidosis in 2010. Cardiac sarcoidosis causes penetrating scars to develop in the heart and if not diagnosed can trigger unpredictable, life-threatening arrhythmias. His illness not only led to physical consequences, but also exposed a debilitating wound hidden in the depths of his spiritual heart.
"I was living a life perceived as full, yet was lacking joy," said Fowler. "My book reveals the process I went through to rediscover this joy during months of illness, inability to work, and multiple hospitalizations. After finally 'letting go' I allowed Christ to lead me into battle, which allowed me to discover the victory that was already mine."
This memoir tells the story of Fowler's redemption and rediscovery of life through the diagnosis, treatment and recovery stages for both of his heart ailments.
"I rediscovered a life that I thought had been lost," said Fowler. "I hope my story shows the awesome healing power of God and reveals to readers that they do not have to fight their battles alone."
For more information, visit http://www.thebeatingofmyhearts.com.
The Beating of My Hearts
By Dr. Brian L. Fowler
ISBN: 978-1-44978-422-5
Softcover retail price: $19.95
Hardcover retail price: $35.95
E-book price: $5.00
About the author
Brian Fowler, MD, is a native Texan. He is board certified in emergency medicine and has treated more than one hundred thousand patients. After serving eight years in the United States Navy, he settled with his wife in Texas Hill Country. He is cofounder of The Geneva School of Boerne and co-owner of the Urgent Care and Occupational Health Centers of Texas, Pa.