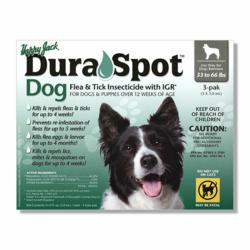 Why worry? Protect your dog from fleas, ticks, mites, lice and mosquitoes with DuraSpot Flea & Tick Insecticide.
Hudson, CO (PRWEB) May 28, 2013
With the flea and tick season fast approaching Dogs Unlimited is now offering DuraSpot Flea and Tick Insecticide. Happy Jack recently introduced DuraSpot Flea and Tick Insecticide with IRG. Designed for dogs of all sizes, DuraSpot will kill and repel fleas, ticks, lice, mites and mosquitoes for up to 4 months and will prevent re-infestation of fleas for up to 5 months.
Alan O. Davison, owner of Dogs Unlimited says, "Fleas and ticks are horrible for your dogs and if your dogs live in the house these pests can quickly spread. Dogs Unlimited has a great assortment of flea and tick products and with the addition of DuraSpot from Happy Jack we now have an easy and convenient way of helping our customers treat their dogs."
Each box DuraSpot Flea and Tick Prevention comes with 3 doses for a full 3 months of protection for your dog. Designed for dogs of all sizes, DuraSpot is available in two options. First is the 1.5mL that is optimal for dogs weighing 15 to 33 lbs and the second option is the 3.0 mL for dogs weighing 33 - 66 lbs.
Davison further states, "Most of our customers have hunting dogs so their dogs are training and hunting in the same environment that's ripe with ticks, fleas, lice, mites and mosquitoes. The fact that DuraSpot comes in a box with 3 doses is an added benefit to our customers. They get a full three months supply of protection for a single dog or they can split the doses out amongst several dogs. Either way their dogs are being protected against fleas and ticks."
DO NOT USE ON CATS, MAY BE FATAL
Dogs Unlimited is located in Hudson, Colorado and has been selling gun dog training supplies and upland hunting gear since 1971.