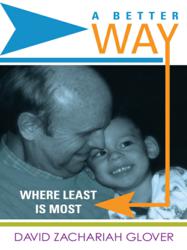 ATLANTA (PRWEB) May 18, 2013
People with special needs and their families are often overlooked in society, even in places that are supposed to be open and inclusive – like churches. In A Better Way: Where Least Is Most by David Glover, he explains how reaching out to these individuals not only benefits these specific groups, but the entire church as a whole.
A Better Way introduces the positive acronym, PURE, that the ministry advocates when referring to people with disabilities. PURE stands for; Perfectly created by a loving God, Unique in every way, Receptive and responsive, and Eternal, there are no disabled souls. The purpose of the book, as well as PURE Ministries, is to inspire, encourage and equip Christians to lovingly reach out to PURE people and their families. PURE Ministries strives to transform the viewpoint that our society has of individuals with special needs.
Glover was inspired to begin PURE Ministries by the birth of his grandson, Zachariah, who was born with hydrocephalus and a myriad of other disorders including cerebral palsy. Despite these conditions, he always had a smile on his face. Though passing away at age four, the impact of Zachariah's life was so profound that Glover realized that there was a sizeable hole in Christian ministry.
"We as Christians individually and corporately as the church, are missing a great opportunity to serve these people," said Glover. "We are also missing an even greater opportunity to be blessed by embracing these people so often invisible in our culture."
This book describes what churches can do to include these groups into their fellowships. Glover also explains why Christians should seek to minister to these families.
"God is using people with special needs to refine us by making us become more genuine, transparent, and authentic as we interact and become friends with them," said Glover. "These people normally do not 'wear masks' as we do and relate only on a true level of sincerity, honesty, and openness."
For more information, visit http://www.pure-ministries.com.
A Better Way: Where Least is Most
By David Glover
ISBN: 978-1-46272-500-7
Softcover retail price: $19.99
E-book price: $5.99
About the author
David Glover is president and founder or PURE Ministries and is an ordained minister of the Gospel. He is a popular speaker in churches, conferences and seminars. He resides in the North Georgia Mountains.