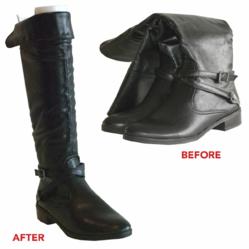 With the creation of our sub-brand aRange, it plays on our core brand and has a better fit. -Director of Marketing of Range Kleen Mfg.
Dana Swearengin
Lima, OH (PRWEB) May 21, 2013
Range Kleen has further expanded its successful storage and organization category creating a new sub-branded line, aRange, Organization by Design, for individuals looking for storage solutions.
This is the answer to many messy storage problems for individuals and families. Rebranding and adding products to our already successful existing storage and organization line, which originally launched in 2000, gives a better fit and compliments the storage and organization category.
"While Range Kleen is a household brand known for over 42 years, it did not have a proper fit or feel for the storage and organization category," says Director of Marketing of Range Kleen Dana Swearengin. "With the creation of our sub-brand aRange, it plays on our core brand and has a better fit."
The new aRange storage and organization line is the perfect solution to household needs and offers a variety of home organization products. This line includes several specially designed drawer storage organizers for kitchen and bedroom/closet and extends to the Boot Legger, which protects and keeps boot to its original shape. Already existing items include Range Kleen's folding one- and two-step-step stools, with easy to fold and unfold design and compactly stored out of the way in tight spaces and ready for use in an instant. Offering effective storage solutions for smaller living areas, college dorms and apartments, Under the Bed spacers, made of durable high-density plastic are perfect for small living spaces... A new take on the already successful Battery Storage Organizer, which offers 25% more storage for optimized use.
Customers can shop the new storage and organization products online at http://www.rangekleen.com
About Range Kleen Mfg., Inc.
Range Kleen Manufacturing, Inc. is a Lima, OH based company manufacturing household products sold to major retail chains globally and has been taking care of the customer (TCOTC) since 1971. Its product Divisions include: Original Equipment Manufacturing Quality (OEM) replacement drip pans for ranges & stoves; Non-stick Metal Bakeware; Kitchen Decorative products specializing in exclusive licensed designs; Storage, Organization, insulated food and beverage bottles and household cleaning supplies. Range Kleen Introduced their own line of cookware- Stainless Steel and Enameled Cast Iron as well as pot racks in 2007. Effective December 21, 2009, Range Kleen Manufacturing was pleased to announce the partnership with Berndes Cookware USA and has taken the lead of all sales, marketing and shipping of Berndes Cookware USA from their International Headquarters in Lima, Ohio.